Copy of S&P 500 Wednesday's Reference Points March 25, 2014 (Tuesday's Close = 1,858.75)
by Carl Weiss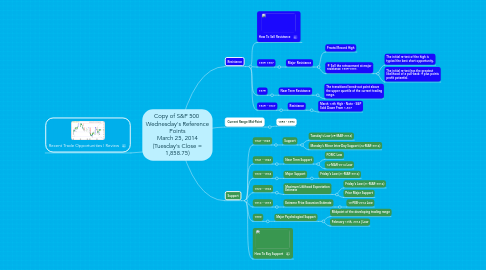 1. Support
1.1. 1847 -1848
1.1.1. Support
1.1.1.1. Tuesday's Low (25-MAR-2014)
1.1.1.2. Monday's Minor Intra-Day Support (24-MAR-2014)
1.2. 1841 - 1842
1.2.1. Near Term Support
1.2.1.1. FOMC Low
1.2.1.2. 14-MAR-2014 Low
1.3. 1832 - 1834
1.3.1. Major Support
1.3.1.1. Friday's Low (21-MAR-2014)
1.4. 1822 - 1824
1.4.1. Maximum Liklihood Expectation Estimate
1.4.1.1. Friday's Low (21-MAR-2014)
1.4.1.2. Prior Major Support
1.5. 1816 - 1818
1.5.1. Extreme Price Excursion Estimate
1.5.1.1. 10-FEB-2014 Low
1.6. 1800
1.6.1. Major Psychological Support
1.6.1.1. Midpoint of the developing trading range
1.6.1.2. February 13th, 2014 | Low
1.7. How To Buy Support
2. Resistance
2.1. How To Sell Resistance
2.2. 1885 1887
2.2.1. Major Resistance
2.2.1.1. Fractal Record High
2.2.1.2. Sell the retracement at major resistance 1885-1887.
2.2.1.2.1. The initial re-test of the high is typical the best short opportunity.
2.2.1.2.2. The initial re-test has the greatest likelihood of a pull-back: 5 plus points profit potential.
2.3. 1875
2.3.1. Near Term Resistance
2.3.1.1. The transitional break-out point above the upper quartile of the current trading range.
2.4. 1865 - 1867
2.4.1. Resistance
2.4.1.1. March 13th High - Note - S&P Sold Down From 1,867
3. Current Range Mid-Point
3.1. 1853 - 1856
4. Recent Trade Opportunities | Review