The tragedy of Othello, moor of Venice
by Aida Vega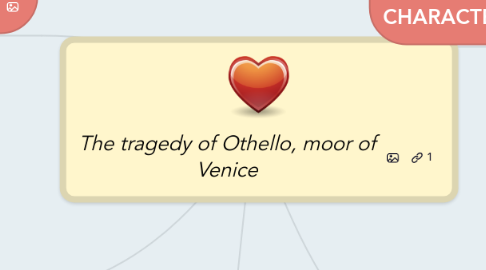 1. CHARACTERS
1.1. Othello
1.2. Desdemona
1.3. Iago
1.4. Emilia
1.5. Rodrigo
1.6. Brabantio
1.7. Cassio
2. TIME
2.1. It was created by Giovanni Battista Giraldi, a italian writer in 1565. Then in 1603 William Shakesperare rewrote the history.
3. PLACE
3.1. The city of Venice in northern Italy, and the island of Cyprus
4. HISTORICAL BACKGROUND
4.1. The first representation of the story has to be celebrated on 1 November 1604 in the Palace of Whitehall in London.
5. AUTHOR
5.1. William Shakespeare was born in Stratford-upon-Avon, Warwickshire, UK on 26-April 1564jul. / 23- April Jul. he was a poet and English actor. Shakespeare is considered the most important writer in the English language and one of the most successful in the world literature.