The recent shark culling program (via drum lines) by the W.A State Government has polarised community opinion. While sharks are a part of the natural ecosystem and should be protected, the loss of life to shark attacks in W.A metro and country beaches is one of the highest of any populated area in the world
by Adam Andrews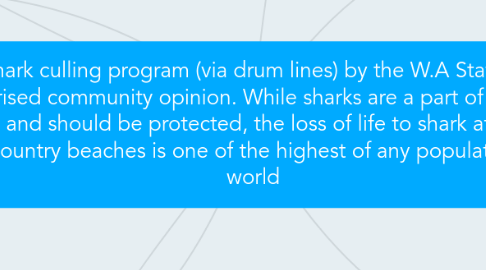 1. Which side of the argument has more support, or a larger following?
2. What is the shark culling program, who runs it and how?
3. What is the real risk of being attacked by a shark? (More so in whale migration seasons?)
4. Why the increase in shark attacks on W.A coast lines now?
5. What other actions can we take to reduce the risk of shark attacks on the W.A coast?
6. Who, when and where have these shark attacks taken place?
7. Result of other shark culling programs over the years? Were they successful or unsuccessful?
8. What studies have been done on shark behavior?
9. Disscuss studies that show negative evidence to shark culling.
10. Discuss studies that show positive evidence to shark culling.