The Internet
by Julie DEBELFORT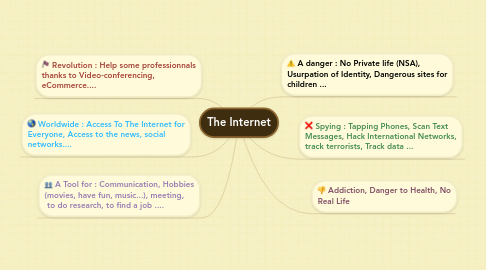 1. A danger : No Private life (NSA), Usurpation of Identity, Dangerous sites for children ...
2. Spying : Tapping Phones, Scan Text Messages, Hack International Networks, track terrorists, Track data ...
3. Worldwide : Access To The Internet for Everyone, Access to the news, social networks....
4. A Tool for : Communication, Hobbies (movies, have fun, music...), meeting, to do research, to find a job ....
5. Revolution : Help some professionnals thanks to Video-conferencing, eCommerce....
6. Addiction, Danger to Health, No Real Life