Unit 3: Vocabulary
by Marina Rodriguez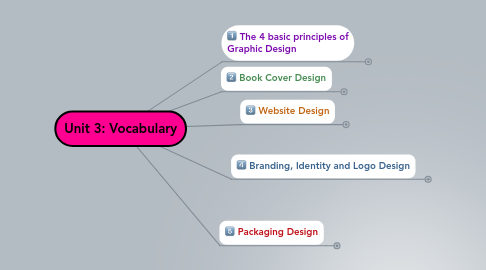 1. The 4 basic principles of Graphic Design
1.1. C: Contrast
1.1.1. Definition
1.1.1.1. "Contraste": It should never confuse the reader or create a focus tan is not actually meant to be the focus.
1.1.2. Vocabulary
1.1.2.1. Focus (foco, centro)
1.2. R: Repetiton
1.2.1. Definition
1.2.1.1. "Repetición": Used to unify and strengthen a piece, tying together its different separate parts.
1.2.2. Vocabulary
1.2.2.1. To tie (unir, empatar)
1.2.2.2. Strengthen (fortalecer)
1.3. A: Alignment
1.3.1. Definition
1.3.1.1. "Alineamiento": When items are aligned, your page has a stronger cohesive unit. Though the items are not close, the belong to the same piece.
1.3.2. Vocabulary
1.3.2.1. Cohesive (cohesivo)
1.3.2.2. Though (aunque)
1.4. P: Proximity
1.4.1. Definition
1.4.1.1. "Proximidad": The maximum number of elements that we should group together is three to five elements.
2. Website Design
2.1. Vocabulary
2.1.1. Subtle (sutil, imperceptible)
2.1.2. Clutter (desastre, lío)
2.1.3. Untidily (desordenado)
2.1.4. Copy (texto)
2.1.5. Copy writer (el que escribe el texto)
2.1.6. Do something "In a flash" (hacer algo rápidamente)
2.2. Verbs
2.2.1. To invest (invertir)
2.2.2. To summarize (resumir, sintetizar)
3. Book Cover Design
3.1. The horizontal grid
3.1.1. Vocabulary
3.1.1.1. Cerise (color cereza)
3.1.1.2. Spine (lomo de un libro)
3.1.1.3. Feature (rasgo, característica)
3.1.1.4. Layout (maquetación, plano, disposición de los elementos)
3.1.1.5. Typeface (fuente, tipo de letra)
3.1.1.6. Faux (falso, imitación)
3.1.1.7. Imprint (sello, marca del editor en un libro)
3.1.1.8. Bold (en negrita --> letra)
3.1.1.9. Dustjacket (sobrecubierta del libro, la que se puede quitar)
3.1.2. Verbs
3.1.2.1. Outlast (durar más, sobrevivir)
3.2. The Abram Games cover experiment
3.2.1. Vocabulary
3.2.1.1. Overprinted (sobreimpreso)
3.2.1.2. Reversed-out (impreso en negativo)
3.2.1.3. A full-color design (un diseño a todo color)
3.2.2. Verbs
3.2.2.1. To be at the foot of the cover (estar al pie de la portada)
3.2.2.2. To carry out an experiment (llevar a cabo un experimento)
3.2.2.3. To face growing competition (hacer frente a una competencia cada vez mayor)
3.3. Fiction today
3.3.1. Vocabulary
3.3.1.1. Contemporary (contemporáneo, actual)
3.3.1.2. Trends (tendencias, modas)
3.3.1.3. Balance (equilibrio)
3.3.2. Verbs
3.3.2.1. To succeed (tener éxito)
3.3.2.2. To target (dirigir)
3.3.2.3. Get comissioned (conseguir comisión)
3.3.2.4. Strike (lograr)
3.4. Others
3.4.1. Cover (portada)
3.4.2. Back cover (contraportada)
3.4.3. Flap (solapa)
3.4.4. Front-inside flap
3.4.5. Back-inside flap
3.4.6. Hard cover (de tapa dura)
3.4.7. A paperback edition (edición barata, rústica, con la tapa de poca calidad)
4. Branding, Identity and Logo Design
4.1. Branding
4.1.1. Vocabulary
4.1.1.1. Bite sized (muy pequeño)
4.1.2. Verbs
4.1.2.1. To stand for (representar, simbolizar)
4.1.2.2. To stand out (sobresalir, destacar) --> es intransitivo, no lleva CD
4.1.2.3. To highlight (hacer destacar) --> es transitivo, lleva CD
4.2. Identity
4.2.1. Vocabulary
4.2.1.1. Logo (logotipo, logo)
4.2.1.2. Stationery (todo lo que encuentras en una oficina: papel, lápices, regla..)
4.2.1.3. Marketing collateral (marketing para el material promocional)
4.2.1.4. Products and packaging (productos y su embalaje)
4.2.1.5. Apparel design (prendas que llevan los empleados)
4.2.1.6. Signage (Interior & exterior desing) --> señalética
4.2.1.7. Messages & actions (mensajes expresados de forma directa e indirecta)
4.3. Logo
4.3.1. Recognizable (reconocible)
4.3.2. Memorable (memorable, impresionante)
5. Packaging Design
5.1. Vocabulary
5.1.1. Customized, tailored, personalized (personalizado)
5.1.2. Lid (tapa)
5.1.3. Trend (tendencia)
5.2. Verbs
5.2.1. To order (pedir, encargar) --> un producto
5.2.2. To capture attention (captar la atención)
5.2.3. To stand out (sobresalir, destacar)