HEALTHY RELATIONSHIPS
by Rachael Kayley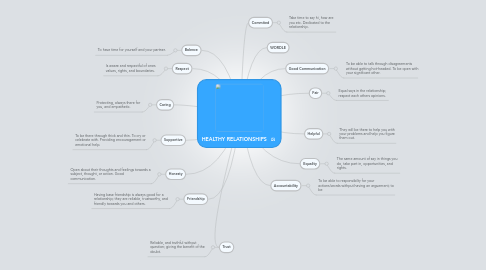 1. WORDLE
2. Respect
2.1. Is aware and respectful of ones values, rights, and boundaries.
3. Honesty
3.1. Open about their thoughts and feelings towards a subject, thought, or action. Good communication.
4. Equality
4.1. The same amount of say in things you do, take part in, opportunities, and rights.
5. Trust
5.1. Reliable, and truthful without question; giving the benefit of the doubt.
6. Supportive
6.1. To be there through thick and thin. To cry or celebrate with. Providing encouragement or emotional help.
7. Good Communication
7.1. To be able to talk through disagreements without getting hot-headed. To be open with your significant other.
8. Helpful
8.1. They will be there to help you with your problems and help you figure them out.
9. Balence
9.1. To have time for yourself and your partner.
10. Commited
10.1. Take time to say hi, how are you etc. Dedicated to the relationship.
11. Fair
11.1. Equal says in the relationship; respect each others opinions.
12. Accountability
12.1. To be able to responsibilty for your actions/words withput having an arguement; to be
13. Friendship
13.1. Having base friendship is always good for a relationship; they are reliable, trustworthy, and friendly towards you and others.
14. Caring
14.1. Protecting, always there for you, and empathetic.