Didier LAHELY
by Neo Ante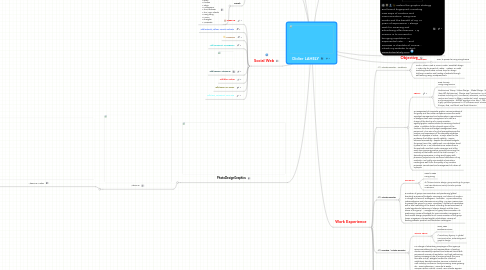 1. Define the graphic strategy and brand fingerprint, inventing new ways of creation and communication, using new media and the benefit of my 12 years of experience, I always seek for meaning and advertising effectiveness. My mission is to succeed in bringing reputation in exponential rate... ...and increase in clientele of course... Check my website to start: www.didierlahely.com
2. Objective
3. Contact
3.1. www.didierlahely.com
3.2. www.didierlahely.fr
4. Work Experience
4.1. //// Artistic Director - Freelance
4.1.1. Freelancing
4.1.1.1. 2007 to present • Hong Kong/France
4.1.2. Print • Video • Web • Various Media • Booklet design + video clip for project of Aedas - "Jadeis" • Model marketing brochures • Onliine shop for design clothing • Creation and hosting of website through self-learning using Wordpress tools
4.2. //// Creative / Artistic Director
4.2.1. AEDAS
4.2.1.1. 2006 to 2007 Hong Kong/France
4.2.1.2. Architectural Group / Urban Design - Global Design | 4th in the world (from BD Architecture). Design and Construction in a large range of markets including civil, commercial, education, and health sectors, hotels, casinos and resort in Macau, residential, retail, museums, pharmaceuticals and transportation. AEDAS employs more than 1,700 architects, they are highly qualified personnel in 25 offices across 4 continents, namely Europe, Asia, and North and South America.
4.2.2. • Management of corporate graphic communications of the group and their sister companies across the world • Budget management and optimisation • Recruitment of designer team and management of 5 staff • In charge of the start-up of a communication agency/graphic creation studio for servicing clients of Aedas In addition to the inherent rigour of the function, the time and budget management were paramount. Thus one of my first prerogatives was the creation and supervision of the company exhibition booth at Cityscape of Dubai - a major event for the profession that offers a world visibility. Mission achieved successfully: despite the colossal budgets the group has in the Middle East, our exhibition stand (a panel of 9m X 4m) attracted more visitors than in the past with excellent media coverage, and at the same time receiving positive remarks concerning the creativity of the booth and of the total concept. A fascinating experience in a big world group with pharaonic projects and a reinforced confidence of my creativity, I am highly commented in brainstorm meetings as well as for the quality of my creative proposals. Recruitment and management of a team of 5 people.
4.3. //// Artistic Director
4.3.1. MAJESTIC
4.3.1.1. 2005 to 2006 Hong Kong
4.3.1.2. A Chinese interior design group working for groups and manufacturers mainly but also private customers.
4.3.2. • Creation of group communication and positioning (global branding) • Review of budgets, campaigns, and choice of media • In charge of a team of 8 designers Anecdote: My recruitment by videoconference and interviews via my blog My main mission was to present the group to a more "European" clientele of expatriates, with a total reworking of the brand, including the enhancement of model apartments (advocacy of interior design) and the chain stores of the group . Management of group communication, its positioning, review of budgets for communication campaigns in local media, design proposals for all communication of the group (press, magazines, chinese/english publications, revamp of existing website, product and decoration catalogues…
4.4. //// Creative / Artistic Director
4.4.1. TRAFIC TEAM
4.4.1.1. 2002_2004 Bordeaux-France
4.4.1.2. Consultancy Agency in global communication, advertising and graphic design
4.4.2. • In charge of advertising campaigns of the agency • Recommendations to and representation of existing clients • Successfully captured and retained clients with permanent increase of reputation and high performing mailing campaigns (rate of success at 80%, the norm then was 0.75%) Budgets handled for clients of institutions, beauty/cosmetics, services, industrial and craft industry, commerce, food-processing, wine-growing, etc. Some references: Mairie de la Brède, Groupe Panther, Institut Arnaud, Jean-Claude Biguine, Cottage, Bonzaï Hôtels, Peugeot, Wynn's, Brico-lots, Sitoflor, B3e, Alliance Bordeaux…
4.5. //// Manager • Artistic Director Creative Director
4.5.1. DUM-DUM
4.5.1.1. 1998_2002 Bordeaux-France
4.5.1.2. A Limited Consultancy Agency in global communication, advertising and graphic design
4.5.2. • Start-up of the agency • Recruitment and management of 2 freelances with permanent collaboration • Internet and external communication • Project management (SMEs, small and medium industries, institutions, and key accounts • With success in our media communication, we were contacted by Médiamétrie (for audience measurement) who had entrusted us their project of numerical greeting cards • Nominated and named website with 'Publissimes 2000' • Selected as -Site of the Week- by Praktica.net • Press articles and TV reports on the performance and creativity of the agency • Design of greeting card on triptych for the 'Comité des Expositions de Bordeaux' in 2000
4.6. //// Artistic Director
4.6.1. EGMA CONCEPT
4.6.1.1. 1998 Bordeaux-France
4.6.1.2. Consultancy Agency in communication, studio of graphic design
4.6.2. Budgets handled: institutional, architects, SMEs • In charge of clientele development • Comprehensive graphic communication of projects for clients Overall communication concept for the Government of Gabon on 50 years of the Railway
4.7. //// Graphic Designer
4.7.1. EDITIONS DU HA
4.7.1.1. 1997 Bordeaux-France
4.7.2. • Conceptualisation and realisation of city plans/guides, advertising inserts, management of guide production (>100 pages) • Graphic communication of fashion line of enterprises Advanced training on the thorough techniques of printing (obligatory for magazines of >100 pages), multiplicity of communication medium.
5. Social Web
5.1. WEBSITE
5.2. French Website
5.3. LINKEDIN
5.4. FACEBOOK
5.5. Vitamin D
5.6. Videos
5.7. My Music
5.8. TWITTER
6. Skills & Talents
6.1. Software
6.1.1. Macintosh & Windows • QuarkXpress +++++ • Indesign +++++ • Illustrator +++++ • Photoshop +++++ • Final Cut Pro +++++ • Motion +++++ • Office (Word, Excel…) +++++ • Internet +++++ (blog creation, Wordpress…) • After Effects +++++ • Acrobat Pro +++++
6.2. Languages
6.2.1. French
6.2.2. English
6.2.3. Spanish
6.3. Travels
6.3.1. * Turkey * Spain * London * Tokyo * Madagascar * The Carribean * The Virgin Islands * Hong Kong * Macau * Shanghai * Venezuela
7. Creative Strategy
8. PhotoDesignGraphics
8.1. Vitamin D
8.1.1. Vitamin D, 10dier