Comparativos y sus usos
by abelardo tobgi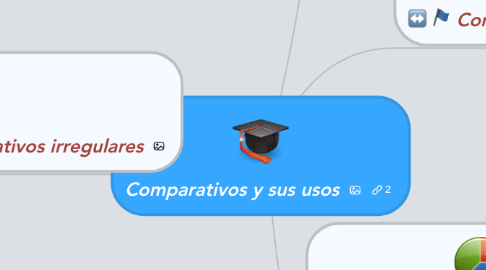 1. Comparativos de igualdad
1.1. Se forma con el adjetivo intercalado entre la construcción "as...as" (tan...como) para frases afirmativas e interrogativas y "not as...as" o "not so...as" para las frases negativas
1.1.1. I am as tall as you
1.1.2. Am i as tall as you?
1.1.3. I am not so tall as you
2. comparativo de inferioridad
2.1. Se forma con el adjetivo intercalado entre la construcción "less...than" (menos...que), aunque es más usual encontrar la comparación de igualdad en forma negativa (que tiene el mismo significado).
2.1.1. He is less tall than you
2.1.2. He is not as tall as you
3. comparativos de supeoridad
3.1. Se forma de dos modos: Añadiendo al adjetivo el sufijo -er para el comparativo de superioridad y -est para el superlativo. Anteponiendo la palabra more (más) para el comparativo de superioridad y "the most" para el superlativo.
3.1.1. tall, taller, tallest
3.1.1.1. He is taller than his brother
3.2. Los de dos sílabas que terminan en er, y, le y ow y los que tienen el acento (prosódico) en la última sílaba forman también el comparativo y el superlativo con - er y - est.
3.2.1. clever, cleverer, the cleverest
3.2.1.1. He is cleverer than she
3.3. El resto de adjetivos de dos sílabas y todos los de tres o más forman el comparativo con more y el superlativo con most
3.3.1. interesting, more interesting, the most interesting
3.3.1.1. English is more interesting than french
4. Comparativos y superlativos irregulares
4.1. Algunos adjetivos forman el comparativo de manera irregular
4.1.1. good, better, the best
4.1.1.1. You are the best
4.2. -Cuando un adjetivo termina en e solamente añade -r y -st para el comparativo y superlativo
4.2.1. large, larger, the largest
4.2.1.1. That car is the largest
4.3. Cuando terminan en consonante + y cambian la y por i
4.3.1. easy, easier, the easiest
4.4. -Si termina en una sola consonante precedida de una sola vocal, duplica la consonante.
4.4.1. big, bigger, the biggest
4.5. -La expresión española "cada vez más" equivale en inglés a los dos comparativos del adjetivo.
4.5.1. The film is becoming more and more interesting