Taming of the shrew
by Kristian Still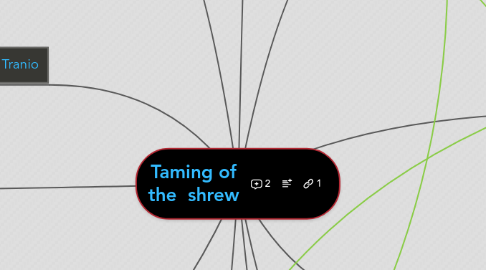 1. "Pardon me ,sir, the boldness is mine own, that, being a stranger in this city here, do make myself a suitor to your daughter, unto Bianca, fair and virtuous."
2. Baptista has lots of gold. This is why Petruchio wants to marry Katharina.
3. Katherina
3.1. A shrew
3.1.1. Outspoken
3.1.2. Ill-minded
3.1.3. Foul-mouthed
3.1.3.1. "I pray you, sir, is it your will To make a stale of me amongst these mates?"
3.1.4. Retaliates over every thing
3.1.5. The Taming of the Shrew. William Shakespeare. Shakespeare's comedy about a prank on the local drunk
3.1.6. Described as a 'fiend' which means a nasty piece of work
3.1.7. A nasty girl
3.1.7.1. "Call you me daughter? Now I promise you You have show'd a tender fatherly regard..."
3.1.8. Shrew / shroud
3.1.8.1. Ill-tempered
3.1.9. Arrogant
3.1.9.1. Cocky
3.1.9.1.1. "A pretty peat! it is best Put finger in the eye, an she knew why."
3.1.10. Demanding
3.1.10.1. If Bianca gets married first then Katharina will get cross because Bianca is younger and all the suitors will not go to get married because Katharina is a shrew
3.2. None of the young men of Padua want to court Katherine
3.3. Kate is a headstrong young woman
3.4. Katherina marries Petruchio and Petruchio tames her.
3.5. Katherina can be changed to Kate her name can be tamed
4. The Taming of the Shrew is a comedy by William Shakespeare, believed to have been written between 1590 and 1592. Characters: Petruchio, Lucentio, Tranio, Grumio, Hortensio. Adaptations: 10 Things I Hate About You (1999).
5. Christopher Sly
5.1. He is mentioned at the start of the play.
5.2. He is dressed up as a lord and is sent to a country mansion where he is told he has been in a sleep and had been dreaming for 15 years
5.3. Third, or fourth, or fifth borough, I'll answer him by law: I'll not budge an inch, boy: let him come, and kindly. (Falls asleep. Horns winded). - Christopher Sly
5.4. Has a special relationship with Shakespeare...
5.5. He is used to show characters can be twisted
6. Bianca
6.1. Patient
6.1.1. Calm
6.2. "Sister, content you in my discontent. Sir, to your pleasure humbly I subscribe; My books and instruments shall be my company, On them to look, and practise by myself."
6.2.1. this is proof that Bianca is calm and kind whatever the situation
6.3. Kind
6.4. "Sister, content you in my discontent. Sir, to your pleasure humbly I subscribe; My books and instruments shall be my company, On them to look, and practise by myself."
6.4.1. This is Bianca speaking
7. Hortensio (suitor)
7.1. Gives warning
7.2. "Mates, maid! How mean you that? No mates for you, Unless you were of gentler, milder mould. "
7.3. Hortensio is 'fighting the fire' (Katherina), however and goes for the aggresive
8. Gremio
8.1. Thinks nothing of Katharina than too rough and a shrew.
8.1.1. "To cart her rather. She's too rough for me. There, there, Hortensio, will you any wife?"
9. Baptista
9.1. Very wealthy
9.2. Baptista has two daughters
9.2.1. Wants to marry off Katherina before Bianca
9.2.1.1. As he wants some peace and quiet in his own house
9.3. Baptista declares that Bianca cannot court anyone until he finds a husband for Katherine.Because he wants some peace
9.4. Baptista is polite
9.4.1. "Gentlemen, importune me no farther, For how I firmly am resolv'd you know;..."
9.4.1.1. 3 Suitors (deception)
9.4.1.1.1. Hortensio
9.4.1.1.2. Lutensio
9.4.1.1.3. Tranio
9.5. Katherine, or Kate, is the daughter of Baptista Minola, with whom she lives in Padua. She is sharp-tongued, quick-tempered, and prone to violence, particularly against anyone who tries to marry her.
9.5.1. She has three suitors and no-one likes Katharina
9.5.1.1. Consequently, Katharine is jealous an unkind to Bianca 9the popular one)
10. Tranio
10.1. He is one of Bianca's suiters
11. Shakespeare's craft
11.1. 'Gentleman, importune me no further'... this proves that Baptista values men more than ladies... he has no intention of speaking to the woman
11.1.1. He makes fun of the way females are treated...
11.1.2. he makes males sound better than females
11.2. He makes things sound way more interesting. For example, he says gold instead of money, to make it sound more interesting.
11.3. where is it set
11.3.1. it is set outside an alehouse in padua(like most of plays)
11.4. Iambic pentameter
11.4.1. He uses 10 syllables for every line of the script
11.4.2. sets all the lines to the same amount of syllables
11.5. Decieves people
11.6. This is one of Shakespeare's crafting....switching people around, into other people's clothes and house.
11.6.1. twists people
11.6.1.1. changes people around
11.7. Shares secrets with the audience
11.8. Mocks society
11.9. He spoils things. For example, he tells you all about Christopher Sly at the beginning of the play.