4. The Scanfin merger
by alessandra zamparini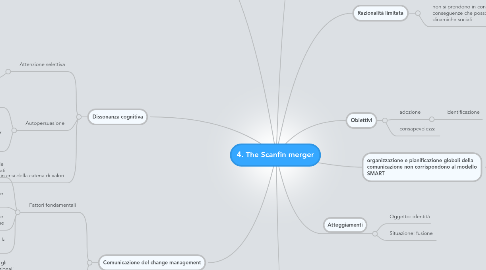 1. Obiettivi
1.1. adozione
1.1.1. identificazione
1.2. consapevolezza
2. Atteggiamenti
2.1. Oggetto: identità
2.2. Situazione: fusione
3. Mancanza coorientamento
3.1. decisione intragruppo: internal communications experts + external branding consultancy
3.2. Gli impiegati non vengono coinvolti
3.3. I quattro manager della comunicazione hanno tralasciato gli stakeholder interni (i dipendenti) dell'azienda creando un'illusione del cambiamento
3.4. mancanza nella definizione di obiettivi
4. Segnali "spirale del silenzio"
4.1. entusiasmo smorzato dall'opinione negativa prevalente
4.2. mancata opportunità nell'individuare degli "ambasciatori" (opinion leaders)
4.3. "The Swedish employee who had had a team discussion with her manager was enthusiastic about the process. she had told Thor that it was very helpful to have a discussion about the new identity's affect on their daily work, and that everybody was entitled to say their opinion" (The Scanfin Merger, p.7) "One employee in Finnlandhad told Annuka that this department they did not talk about the new identity or what it meant, and that he had the clear impression that his manager did not care about the new identity or the new values at all...if it has no importance to my boss, it has no importance to me" (The Scanfin merger, p.8)
5. Comunicazione del change management
5.1. Fattori fondamentali
5.1.1. Flusso informativo bidirezionale tra top management e impiegati
5.1.2. Struttuta flessibile della comunicazione per reagire spontaneamente
5.1.3. leader della comunicazione che coordina tutta la comunicazione
5.1.4. obiettivi ben definiti per evitare la confusione tra gli impiegati
5.2. Attività concrete
5.2.1. comunicare e spiegare gli obiettivi e le ragioni razionali
5.2.2. dimostrare comprensione nei confronti delle reazioni degli impiegati
5.2.3. dare possibilità di feedback
5.2.4. dare possibilità di interazione con il management (discussioni/meetings/...)
5.2.5. offrire la possibilità di un dialogo coi singoli
6. Dissonanza cognitiva
6.1. Attenzione selettiva
6.1.1. il focus sulle esperienze negative passate influisce sull'opinione
6.2. Autopersuasione
6.2.1. per modificare un atteggiamento è necessario che l'individuo interiorizzi il cambiamento,
6.2.2. "if it has no importance to my boss, it has no importance to me"
6.2.2.1. il cambiamento deve partire dall'alto, non essere semplicemente imposto
6.2.2.2. anche a livello manageriale occorre che il cambiamento sia interiorizzato
6.3. Messa in crisi della catena di valori
7. Razionalità limitata
7.1. non si prendono in considerazione tutte le conseguenze che possono derivare da importanti dinamiche sociali
8. organizzazione e pianificazione globali della comunicazione non corrispondono al modello SMART
8.1. Un cambiamento di identità non può avvenire in pochi mesi (obiettivo non "achievable")
9. Casi analoghi
9.1. Daimler&Chrysler