Aardrijkskunde toets 2
by elke das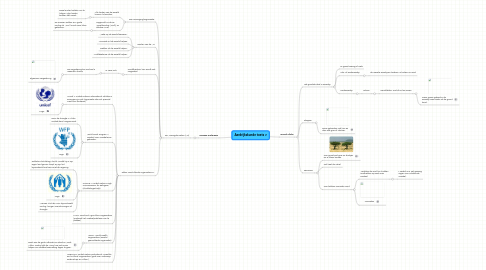 1. Mensen onderweg
1.1. De Verenigde Naties (VN)
1.1.1. Een vereniging/organisatie.
1.1.1.1. Alle landen van de wereld kunnen lid worden.
1.1.1.1.1. Deze landen betalen om te helpen, rijke landen betalen het meest.
1.1.1.2. Opgericht na de 2e Wereldoorlog (WOll); 24 oktober 1945
1.1.1.2.1. De mensen wilden zo'n grote oorlog als WO ll nooit meer laten gebeuren.
1.1.2. Doelen van de VN
1.1.2.1. Vrede op de wereld bewaren.
1.1.2.2. Armoede uit de wereld helpen.
1.1.2.3. Ziekten uit de wereld helpen.
1.1.2.4. Analfabetisme uit de wereld helpen.
1.1.3. Hoofdkantoor, hier wordt ook vergaderd.
1.1.3.1. In New York.
1.1.3.1.1. De vergadering kan ooit wel 3 maanden duren!!
1.1.4. Zitten verschillende organisaties in.
1.1.4.1. Unicef = United Nations International Children's Emergency Fund (organisatie die zich speciaal inzet voor kinderen)
1.1.4.1.1. Logo
1.1.4.2. World Food Program = voedsel voor voedselarme gebieden.
1.1.4.2.1. Door de droogte in Afrika onstaat daar hongersnood.
1.1.4.2.2. Logo
1.1.4.3. UNHCR = United Nations High Commissioner for Refugees (vluchtelingenhulp)
1.1.4.3.1. Politieke vluchteling: vlucht, omdat hij in zijn eigen land gevaar loopt. Zij zijn het bijvoorbeeld niet eens met de regering.
1.1.4.3.2. Logo
1.1.4.3.3. Mensen vluchten voor bijvoorbeeld oorlog, honger, overstromingen of droogte
1.1.4.4. FAO= Food and Agriculture Organization (probeert het voedselprobleem aan te pakken)
1.1.4.5. WHO= World Health Organization (wereld gezondheids organisatie)
1.1.4.5.1. Denk aan de grote uitbraak van Ebola in West- Afrika. Hierbij kijkt de WHO hoe ze kunnen helpen om verdere besmetting tegen te gaan.
1.1.4.6. UNESCO= United Nations Eductional, Scientific and Cultural Organization (gaat over onderwijs, wetenschap en cultuur)
2. Noord-Afrika
2.1. Het grootste deel is woestijn
2.1.1. Er groeit weinig of niets
2.1.2. rots- of zandwoestijn
2.1.2.1. de meeste woestijnen bestaan uit rotsen en zand
2.1.3. zandwoestijn
2.1.3.1. Sahara
2.1.3.1.1. Zandvlakten, met af en toe oases
2.2. Steppen
2.2.1. Dorre gebieden met hier en daar wat gras of struiken.
2.3. Savannen
2.3.1. Hier groeit wat gras en struikjes en er staan bomen.
2.3.2. Het heet de Sahel.
2.3.3. Hier trekken nomaden rond.
2.3.3.1. Veetelers die met hun kudden rondtrekken op zoek naar voedsel.
2.3.3.1.1. Meestal is er net genoeg regen voor voldoende voedsel.
2.3.3.2. Nomaden