Observation: tools to support your client and reasons to use them
by Justin H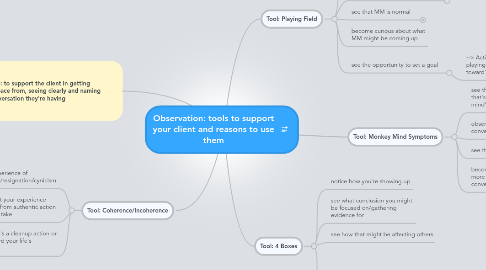 1. Tool: 4 Boxes
1.1. notice how you're showing up
1.2. see what conclusion you might be focused on/gathering evidence for
1.3. see how that might be affecting others
1.4. become curious about what might be a more interesting conclusion to focus on
1.4.1. --> Being
1.4.1.1. life's intentions
1.4.1.2. standards of integrity
1.4.1.3. green lens
1.4.1.4. arena
2. Tool: Coherence/Incoherence
2.1. notice experience of frustration/resignation/cynicism
2.2. see that your experience comes from authentic action not yet take
2.3. gain clarity on whether it's a cleanup action or an action to move forward your life's intentions
2.3.1. --> Action
3. Tool: Playing Field
3.1. see that this is important to you
3.1.1. --> Being
3.2. experience your *being* by seeing the life's intentionat play
3.2.1. --> Being
3.3. see that MM is normal
3.3.1. say: "Everyone gets uncomfortable when they begin to work toward a goal. This is because the goal is important to you. This discomfort might be due to Monkey Mind. It would be useful to observe which symptoms you are experiencing so that you can get some distance from them."
3.4. become curious about what MM might be coming up
3.5. see the opportunity to set a goal
3.5.1. --> Action: Creating "a game worth playing and a goal worth playing toward"
4. Tool: Monkey Mind Symptoms
4.1. see that you're having a conversation that's not you. "you are not your monkey mind"
4.1.1. --> Being
4.2. observe the qualities of the conversations you're having
4.3. see that all there is to do is observe and shift
4.4. become curious about what might be a more interesting conversation/conclusion
5. Purpose: to support the client in getting some space from, seeing clearly and naming the conversation they're having