Multicultural Children's Books By Alexandra Moyer EDU 230
by alexandra moyer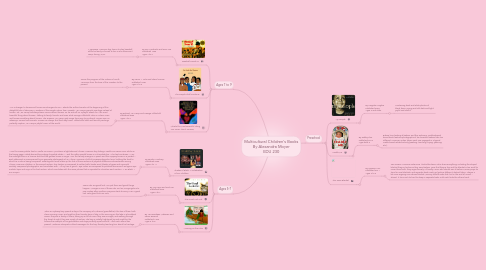 1. Preschool
1.1. My People
1.1.1. By Langsten Hughes Published 2009 Ages 3 and older
1.1.1.1. Containing back and white photos of black faces, young and old, dark and light, joyful and soulful
1.2. Cradle Me
1.2.1. By Debby Slier Published 2012 Ages birth-3
1.2.1.1. Babies love looking at babies, and this welcome, cradle-shaped board book features photographs of ten beautiful babies from ten different American Indian tribes, each one engaged in a typical cradle-board related activity (peeking, touching, crying, yawning, etc.).
1.3. The Twins Blanket
1.3.1. By Hyewon Yum Published 2011 Ages 3 to 6
1.3.1.1. Two Korean American sisters are "look-alike twins" who share everything, including the striped blanket they've had since they were babies. Now that they're five and the blanket is too small to cover them both, they argue fiercely—if briefly—over who should own it before Mommy says it's time for new blankets, and separate beds. Each girl picks a different, distinct fabric. There's a bit more arguing over whose blanket Mommy should make first, but in the end all is well ... almost. It turns out it's hard to sleep in separate beds, until each finds the other's hand.
2. Ages 5-7
2.1. Shades of Black: A Celebration of Our Children
2.1.1. By Sandra L Pinkney Published 2000 Ages 3 to 11
2.1.1.1. "I am the creamy white frost in vanilla ice cream," proclaims a light-skinned African-American boy licking a vanilla ice cream cone, while on the facing page, a dark-skinned boy eating chocolate states "...and the milky smooth brown in a chocolate bar." The text continues, "I am the midnight blue in a licorice stick and the golden brown in sugar. I am the velvety orange in a peach and the coppery brown in a pretzel." Each statement is accompanied by an exquisite photograph of an African American child of corresponding skin tone, holding the food to which he or she is being compared. Differing skin tones make up the first of three sections of physical differences characteristic among African American children. In the second section, hair texture is compared to cotton balls, lambs wool, blades of grass and rope with similarly composed photographs, and concludes with: "All my hair is good." Eye colors are compared to polished stones such as tiger's-eye, unakite, lapis and onyx in the final section, which concludes with the same phrase that is repeated to introduce each section: "I am Black. I am unique."
2.2. The Good Luck Cat
2.2.1. By Joy Harjo and Paul Lee Published 2000 Ages 4 to 7
2.2.1.1. Some cats are good luck. You pet them and good things happen. Woogie is one of those cats. But as Woogie gets into one mishap after another, everyone starts to worry. Can a good luck cat's good luck run out?
2.3. Morning on the Lake
2.3.1. By Jan Bourdeau Waboose and Karen Reczuch Published 1998 Ages 5 to 8
2.3.1.1. When an Ojibway boy spends a day in the company of Mishomis (grandfather), the two of them both claim morning, noon, and night as their favorite time of day. In the morning on the lake in a birchbark canoe, they see a family of loons; hiking up a cliff at noon, they see an eagle; and walking through the forest at night, they see a pack of wolves. The boy is initially frightened by each sight but he follows the example of his grandfather and stays perfectly quiet and still. After each animal has passed, Mishomis interprets cultural messages for the boy, thereby teaching him about his heritage.
3. Ages 7 to 9
3.1. Baseball Saved Us
3.1.1. By Ken Mochizuki and Dom Lee Published 1995 Ages 7 to 9
3.1.1.1. A japanese American boy learns to play baseball while his family is forced to line in am internment camp during WWII.
3.2. The People Shall Continue
3.2.1. By Simon J. Ortiz and Sharol Graves Published 1988 Ages 7 to 9
3.2.1.1. Traces the progress of the Indians of North American from the time of the Creation to the present
3.3. What's the Most Beautiful Thing You Know About Horses?
3.3.1. By Richard Van Camp and George Littlechild Published 2003 Ages 7 to 9
3.3.1.1. "I'm a stranger to horses and horses are strangers to me," admits the author/narrator at the beginning of this delightful tale of discovery. Members of the Dogrib nation from Canada, Van Camp's people use dogs instead of horses. Yet Van Camp has always been curious about horses. So he sets off on a playful search for "the most beautiful thing about horses," talking to family, friends, and even artist George Littlechild, who is a Plains Cree and knows something about horses. The answers Van Camp gets range from zany to profound: Horses can run sideways. Horses have secrets. Horses can always find their way home. Littlechild's bold and fanciful paintings perfectly capture Van Camp's playful vision of the world.