OUTSIDE CATERER (WHAT TO DISCUSS)
by Harry Greig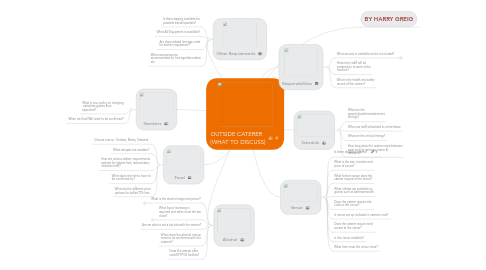 1. Schedule
1.1. What are the speech/band/entertainment timings?
1.2. When are staff scheduled to arrive/leave
1.3. What are the arrival timings?
1.4. How long does the caterer need between each serving (entrees, mains & desserts)?
2. Venue
2.1. Is there disability access?
2.2. What is the size, location and price of venue?
2.3. What kitchen space does the caterer require at the venue?
2.4. What utilities are available to guests such as bathrooms/wifi.
2.5. Does the caterer reqiure site visits to the venue?
2.6. Is venue set-up included in caterers cost?
2.7. Does the caterer require early access to the venue?
2.8. Is the venue available?
2.9. What time must the venue close?
3. Responsibilities
3.1. What security is available and is it included?
3.1.1. John Demo
3.1.1.1. Phone: 555-123456789
3.1.1.2. Mail: [email protected]
3.2. How many staff will be rostered on to work at the function?
3.3. What is the health and safety record of the caterer?
4. Alcohol
4.1. What is the alcohol range and prices?
4.1.1. Key
4.1.1.1. Approved
4.1.1.2. Rejected (illness, no time...)
4.1.1.3. Attention
4.1.2. Jane Demo
4.1.2.1. "The use of Web 2.0 in Internal Communications"
4.2. What liquor licensing is required and when must the bar close?
4.2.1. Goal: 450 registrations
4.2.2. NEW: 320 registrations!
4.3. Are we able to set a bar tab with the caterer?
4.4. When does the alcohol menue need to be confirmed with the caterers?
4.5. Does the caterer offer cash/EFTPOS facilties?
5. Numbers
5.1. What is your policy on charging extra/less guests than expected?
5.2. When do final PAX need to be confirmed?
6. Food
6.1. Discuss menus - Entrées, Mains, Desserts
6.2. What canapés are availabe?
6.3. How are various dietary requirements catered for (gluten free, lactose/dairy intolerant etc)?
6.4. When does the menu have to be confirmed by?
6.5. What are the different price options for buffet/TDH etc.
7. Other Requirements
7.1. Is there staging available for possible bands/quartets?
7.2. What AV Equipment is available?
7.3. Are there added hire-age costs for kitchen equipment?
7.4. What companies are recommended for hire-age/decoration etc.
8. BY HARRY GREIG