SEO
by JunMing Zeng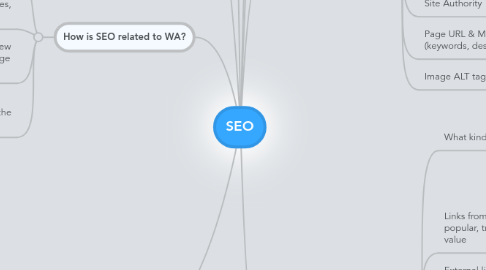 1. How SEO operates?
1.1. Indexing & Spider Crawl
1.1.1. Best path available – links
1.2. Providing Answers
1.2.1. Calculating relevancy & serving results
2. Why SEO?
2.1. Achieve top ranking
2.2. Increase web traffic
2.3. Increase revenue
3. Page Ranking Factors
3.1. Keyword selection is KEY
3.2. Keyword Density
3.3. Inbound links (quality & quantity)
3.4. Inbound links anchor text
3.5. Age of Domain name
3.6. Site Authority
3.7. Page URL & Meta Tags (keywords, description)
3.8. Image ALT tags
4. How is SEO related to WA?
4.1. It is an actionable strategy in response to the result of WA.
4.2. It increases PageViews, New Visitors count, Search traffic count, keywords bounce rates, etc.
4.3. Use WA to identify new keywords landing page opportunities.
4.4. Add those keywords into your top priority list and create landing pages for them to bring in the traffic.
5. Tracking SEO sucess
5.1. Increase in traffic coming from various SEs.
5.2. Increase number of pages traffic coming from SEs
5.3. Increase keyword search popularity and volume
5.4. Increase number of inbound links
6. Types of SE
6.1. Organic
6.1.1. Google, Bing, Yahoo, Ask
6.2. Paid SE
6.2.1. Google Adwords. Yahoo ads, Pay Per Click (PPC) or Pay Per 1000 Impression
7. Keyword Research
7.1. Two Typical Strategies
7.1.1. Optimizing for Traffic (Advertising)
7.1.2. Optimizing for Conversion (eCommerce)
7.2. What is keyword research?
7.2.1. Identifying which phrases are used on search engines
7.2.2. Search volume and relative competitiveness
7.3. Why Keyword Research?
7.3.1. Understand visitors' intentions.
7.3.2. Reach out to right kind of customers
7.3.3. Predict shift in demand. changing market conditions
7.4. More words in keyword phrase, higher rank
7.5. How to choose the right keywords?
7.5.1. Long-tailed keywords
7.5.1.1. Heavily searched by visitors(High popularity)
7.5.1.2. Related to your conversion goals (Lower competition)
7.5.1.3. Reasonable targeted by competitors (High Relevance)
7.5.2. Match keywords and landing pages content
7.5.3. Understand visitors' search intent
7.5.3.1. Transactional Searches
7.5.3.2. Navigational Searches
7.5.3.3. Informational Searches
7.5.4. Why understand user's intent?
7.5.4.1. Creative in fulfilling the visitors' intention.
7.5.4.2. Satisfy searchers and give them a positive experience
8. Growing Popularity & Links
8.1. What kinds of links matters to SE?
8.1.1. Anchor Text
8.1.1.1. Dozens of links point to a page with the right keywords
8.1.1.1.1. Very good probability of ranking well
8.1.2. Website is linked to a spam site?
8.1.2.1. SE will treat your website as a likely spam site too.
8.1.3. Sites that earns additional links over time score well with SE.
8.2. Links from more important, popular, trusted sites get more value
8.3. External links matters more than internal links
8.4. How to build links?
8.4.1. Request for link exchanges to relevant sites or submit sites to directories.
8.4.2. Create Facebook page to market your site
8.4.3. Create good original content and people will want to link to you.
8.4.4. Post on social media sites
8.4.5. Post videos in youtube with backlinks
8.4.6. Participate actively in discussion forums with backlinks in forum signatures
8.4.7. Create blogs that provide valuable information.
8.4.8. Examine & study competitors' backlinks