Zopa
by Ruslan Akhmedzyanov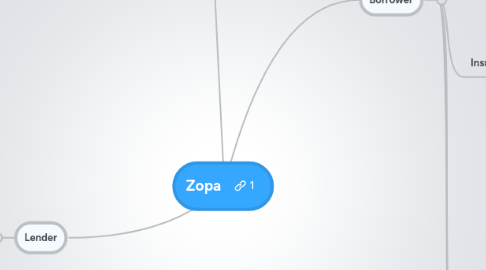 1. Late payment
1.1. If a borrower is late paying, what do I need to do?
1.1.1. We will chase up any missed payments on your behalf and will provide updates via My Loan Book. If your late payer is proving difficult to get back on track we might employ a collections agency to assist with the collections process. This is at no cost to you as the agency charge the borrower for their activity.
1.2. What happens when a borrower misses their repayment(s)?
1.2.1. Zopa receives notification from the banking service that a Direct Debit repayment has failed. This could be due to insufficient funds in the borrower's account, or an issue with the Direct Debit instruction. Unless there is an exceptional mitigating factor that has affected the ability to take payment (such as a technical issue), Zopa then pursues the course of action described below. Establish contact and agree repayment On the day the Repayments team are notified of the failed payment, they attempt to make contact with the borrower by phone to establish the reason for missing the payment. If they are unable to speak with the borrower, the team follow up both by email and letter. The team continue to try to contact the borrower every few days until a response is received and the circumstances for non-payment can be determined. Usually this is a one-off occurrence due to personal circumstances, and the team will arrange for full repayment of the arrears, or if the borrower cannot afford to do so in one instalment, set up a plan to pay off the arrears in instalments. In the latter case, Zopa will continue to collect their monthly commitments and maintain contact with the borrower to ensure the arrears repayments are met also. In certain cases the borrower may be undergoing financial hardship and cannot afford to keep up with their monthly commitments; the Repayments team will try and come to a fair arrangement with the borrower so a proportion of their monthly commitment is still met. This may be done directly with the borrower, or through a Debt Management Agency (DMA) if they have nominated one. Zopa maintains contact with the borrower and/or DMA to ensure the payment plan is honoured and reviews the individual's circumstances on a regular basis. Employing a Collections Agency In exceptional circumstances the borrower may not respond to our correspondence, or might fail to honour any promised action; Zopa may employ a Collections Agency to assist in the collections process, where the Agency's access to other tools and data sources could be of benefit. During this time Zopa will update the Collections Agency on a regular basis with an outstanding balance, to ensure interest accrued on failed repayments is taken in to consideration, as well as any further failed repayments. Zopa do their best to use assistance from a Collections Agency whenever the time is appropriate, so whilst there is no strict time frame for when they are involved the Repayments team will try and establish a relationship with the borrower during the first 30 days from the first repayment being missed before introducing a third party. Notice of Arrears (2 months' arrears) If the borrower falls behind by at least two months' expected repayments, Zopa will send the borrower a Notice of Arrears, which includes an official information sheet on Arrears provided by the OFT. Notice of Default (4 month's arrears) Zopa defines a default when a total value of four months of arrears have accumulated. At this point, Zopa will send the Borrower a Notice of Default, which includes an official information sheet on Defaults provided by the OFT. Once the Notice has been issued the customer has fourteen days to respond to it; during this time Zopa (or any Collections Agency that has been involved in the process) cannot make further contact with the borrower. If no satisfactory response is received, Zopa will consider next options. Typically this will be a request for lenders to assign the defaulted debt to P2PS Limited, to enable further action (including court proceedings) to be taken. Please note that if the borrower has been declared bankrupt and there are no available funds to release to creditors, or has successfully entered in to an IVA or Trust Deed, the debts will not be assigned to P2PS Limited. Equally, if the borrower is making an active attempt to make regular repayments through a repayment plan, Zopa may choose not to request assignment of the bad debt, depending on how much is being paid back. These regular repayments will be monitored on an ongoing basis, and a decision to request assignment of the debt will be considered regularly.. Assignment Zopa will instruct P2PS Limited to take an assignment of the bad debt from the lenders participating in the loan. Affected lenders are given 28 days' notice prior to the assignment, and have the opportunity to decline the offer from P2PS Limited. The borrower is also notified that this process has commenced. Once the 28 day period has elapsed P2PS Limited will provide Zopa with formal notification of the assignment. At this point, ownership of the debt has passed to P2PS Limited, and Zopa has no further responsibility to manage the loan, but may provide pertinent information on the borrower to the affected lenders at its discretion. Zopa sends a notice to the borrower confirming the assignment has occurred and the ownership of the debt has now passed to P2PS Limited, including a schedule of the debts for each lender and which have been assigned. The same schedule is provided to P2PS Limited who will then commence recovery activity with the borrower, including enforcement of the debt through the County Court where such action is sensible. There will be no financial consideration for the assignment. Where funds are recovered, these will be apportioned to the lenders who opted in to the assignment, after deducting the costs incurred by P2PS Limited in bringing the action. For further information on P2PS Limited, please refer to our glossary
2. Borrower
2.1. Amount
2.1.1. Any amount from £1,000 to £15,000.
2.2. Timeframe
2.2.1. 1, 2, 3, 4 or 5 years.
2.3. Prepayment
2.3.1. At Zopa, unlike at other loan providers, you can repay early, or in lump sums, at no extra cost. Because Zopa calculate the interest on your loan on a daily basis, this means you can save yourself lots of money if you choose to repay early. Making an extra payment on your loan will reduce the amount of capital outstanding, and therefore your monthly repayment amount will reduce as a result. The number of monthly payments will remain the same, however.
2.3.1.1. For example, a £5000 loan over 36 months at 9.0% APR would cost a total of £5695 if you took the full 36 months to repay. But if you made your normal repayments and then repaid the whole of the remainder after 12 months, it'd cost a total of just £5373 - saving you £322. If you repaid in full after 18 months, the total cost would be £5509, and after 24 months it'd be £5609. So you can see the earlier you repay, the more you save. And Zopa don't charge a penny for this facility. However, you cannot settle or make an extra payment towards your loan whilst your monthly payment is in processing.
2.4. Requirements
2.4.1. To become a borrower at Zopa in the A*, A, or B markets, you will be 20 years of age or more and your credit data over the last three years will show: 1.a responsible use of credit 2.you've been on the electoral register for each of your addresses 3. you've not increased your borrowing recently We'll also need to be able to confirm all the information you give us and the loan has to be affordable for you.
2.4.1.1. The exact market you end up in will depend on you credit score, with A* borrowers having the highest credit scores, followed by A borrowers, then B borrowers. B borrowers have higher credit scores than most of the British public. 1.not increased your borrowing recently 2. been on the electoral register for as long as possible at each of your addresses 3. not failed to repay any previous debt so far
2.5. Interest rates
2.5.1. How is the APR calculated?
2.5.1.1. APR stands for Annual Percentage Rate, and takes into account all the interest and charges that are payable on a loan, and so shows you the actual cost of the loan.
2.5.1.1.1. The APR on Zopa loans covers both the interest you pay to lenders and the borrowing fee. The amount of interest you pay to lenders is determined by the rates they're offering their money at - Zopa is a marketplace, and the rates on Zopa loans are set by our lenders.
2.5.2. How are repayments calculated?
2.5.2.1. The interest you pay on a Zopa loan is based on the outstanding balance of your loan. It's calculated daily, although you make repayments monthly.
2.5.2.2. While your repayments will be the same through out the course of a loan (except for maybe your first one), you'll be paying less interest and repaying more capital each month.
2.5.2.3. The first repayment you make will be slightly higher than the rest of your repayments if more than a month passes between you taking out the loan and making your first repayment. Whether this happens depends on which day of the month you chose to make your repayments on.
2.6. Credit Score
2.6.1. Calculation
2.6.1.1. We calculate a score for you based on all the personal details you give along with the details we obtain from the credit bureau. This score is used to place you in one of the Zopa Markets. Therefore the score given to you by a credit bureau and your Zopa score are very different. When making a loan application, you give Zopa permission to access your credit records at one or more of the UK's credit bureaux (e.g. Equifax, Call Credit, Experian).Equifax are our main credit report provider,
2.6.2. Key things that can influence the end result
2.6.2.1. 1.How much debt a person has 2.What changes in credit profile have taken place historically 3.Previous payment history to other providers does not fit our lending criteria 4.The credit bureau may not have sufficient information for us to be able to make a safe decision
2.6.3. Impact on Your Overall Credit Score
2.6.3.1. Initially Zopa requests a Quotation Search. This type of search is visible only to you and the company performing the search, but not to other lenders. This type of search therefore does not affect your credit score.
2.6.3.2. The only time that your credit score will be affected is when you submit an application to Zopa. In this instance, a Credit Application search is made and this search is visible to other credit providers in the country. This is the same as a Credit Application search made via any bank, as all companies accessing credit records on behalf of individuals must subscribe to a standard set of rules and procedures laid down by SCOR (the Standing Committee on Reciprocity). If you make all your repayments on time for your Zopa loan, any impact on your credit score will be positive.
2.7. Insurance
2.7.1. Do you offer payment protection insurance?
2.7.1.1. No, however you can of course obtain insurance from a third party.
2.8. Loan application
2.8.1. How do I cancel my loan?
2.8.1.1. Once you have submitted your completed loan application, you have 14 days to send us written notice of cancellation using this form.
2.8.1.2. If your loan has not been approved and disbursed yet, you will be able to cancel the loan application. No interest will be charged and the borrowing fee will not apply.
2.8.1.3. If your loan has already been disbursed, and you sent us written notice of cancellation within 14 days, you will have 30 days to repay the loan amount including any interest charged but excluding the Zopa fee.
2.8.1.4. If you do not repay the whole loan by this time, you will be deemed to have accepted the loan such that our normal terms and conditions will apply. This means that you will have to repay the loan amount including interest charged and the borrowing fee.
2.8.2. I've applied for a loan what happens now?
2.8.2.1. 1. Once you've submitted your loan application, our underwriting team will review your case within 24 hours (Monday – Friday). They may need to contact you if they require more information.
2.8.2.2. 2. They'll typically get in touch over the phone before resorting to emails, so please keep your phone(s) to hand so you can pick up their message as quickly as possible, if not answer their call straight away. Our underwriters will never disclose the reason for their call or discuss your personal details with anyone else.
2.8.2.3. 3. Once a decision has been made, you'll receive a notification at your registered email address of whether you've been successful or not.
2.8.2.4. 4.If the loan is approved we will send the funds to you by BACS transfer, which typically takes 3 working days to reach your nominated bank account, which is the one you provided when setting up your Direct Debit.
2.8.2.5. 5.Should you need the funds sooner, you can request Fast Track, which costs £57.50. This amount is deducted from your loan when it is disbursed to you. If you request this money for an approved loan should reach you on the same day or next morning (depending on the time of day it was approved). If you didn't opt for this when applying for your loan, you can speak to one of our underwriters to request it.
2.9. Default
2.9.1. Collection Agency
2.9.1.1. If you are late in making a payment, the Collections Agency reserves the right to charge you an administration fee for the work they do in attempting to collect your repayments.
2.9.1.2. The Collections Agency reserves the right to change the percentage charged, which Zopa has no control over.
2.9.1.3. The fee will be based on a percentage of the amount that is overdue to your Zopa lenders, including any interest that accrues on overdue amounts. A percentage of 22.5% will be applied; where a field agent has been employed as part of the collections process, a percentage of 40% will be applied.
2.9.2. Contact us
2.9.2.1. If you think that you may not be able to honour your repayment commitments to your lenders, you should contact us immediately.
2.10. Fees
2.10.1. Are there any hidden charges?
2.10.1.1. Absolutely not. Applying for a loan costs nothing and only successful borrowers are charged the borrowing fee. This fee is included in the APR quotations.
3. Lender
3.1. Requirements
3.1.1. Can a business lend through our platform?
3.1.1.1. Yes, provided that your business is not a lending business and will be lending for investment reasons only and not engaging in the trade of money-lending. If you are proposing to or already do engage in the trade of money-lending we're sorry to say you won't be able to lend at Zopa.
3.1.2. Who can lend?
3.1.2.1. Anyone aged 18 or above who is a UK resident, has a UK current account and is not lending in the course of a business can lend at Zopa without restriction.
3.1.2.2. If you already or intend to lend in the course of a business, we're sorry to say you won't be able to lend at Zopa.
3.2. Amount
3.2.1. You can lend anything from £10
3.3. Repayment
3.3.1. You will receive monthly repayments from your borrowers. This means that your savings aren't tied up for a fixed duration, but rather recycled (if you use our Auto Top Up functionality) into new loans or kept in your Zopa holding account until you withdraw the funds or lend them out to our borrowers again.
3.3.2. Should you ever need access to your money before it is due to be repaid, we also offer Rapid Returns, which allows you to cash out some or all of your outstanding loans.
3.3.2.1. Rapid Returns
3.3.2.1.1. Yes! If you need access to money you've lent out before your borrowers are due to pay it back, you can use Rapid Return to cash out some or all of your market loans. Once you've confirmed that you want to cash out some loans, we transfer them to the lowest bidding lender in that market to recover your remaining capital from their offered funds. Zopa charges a 1.0% admin fee for all successful transfers made via Rapid Return. All loans except the following are eligible to be cashed out using Rapid Return:
3.3.2.1.2. Loans made via Zopa Listings can't be cashed out. This is because Listings required each lender to individually choose each borrower whereas Rapid Return works by automatically matching your loans to another lender and we cannot assume they'd be happy to lend to any given Listings borrower. (Zopa stopped offering new loans via Listings in July 2011)
3.3.2.1.3. If the borrower has ever missed a repayment, you won't be able to cash out of the loan. This is because you would have some privileged information about the borrower's payment performance that another lender might not have access to, and they may not choose to lend in these circumstances.
3.3.2.1.4. You can't cash out loans where a repayment from the borrower is in processing. This is to ensure that 'ownership' of a loan does not change hands during the repayment processing process.
3.3.2.1.5. For those of you who lent under a Consumer Credit Licence in the past, you won't be able to cash out loans you made under your licence. This is because your borrower(s) will have signed contracts with you that could only be taken over by new lenders with their own CCL. Not only does Zopa no longer facilitate lending under individual CCLs, but it wouldn't be a user-friendly experience for borrowers to be asked to re-sign new contracts with new lenders during the life of their loan. Of course, you will be able to cash out any loans you've made since revoking your Licence, subject to the criteria mentioned above.
3.4. Timeframe
3.4.1. You can choose from two terms at Zopa: Shorter and Longer.
3.4.1.1. Shorter
3.4.1.1.1. Shorter term means you will be lending to borrowers getting a 1-3 year loan,
3.4.1.2. Longer
3.4.1.2.1. Longer term is aimed at borrowers looking for a 4-5 year loan.
3.5. Interest Rate and Return
3.5.1. How should I decide on my rates?
3.5.1.1. One way of deciding your rates is to look at what other lenders are doing. The Recent Rates tab will show you the average rate of the last 5 matched loans in a specific Zopa Market.
3.5.1.2. When you create your lending offer in your Zopa account you will be able to choose your rates. When choosing you will see in the rate column how you are setting your rates compared to other lenders. When choosing your rates you should consider the return that you want after fee and expected default and whether your rate is competitive with other lenders. By keeping your rate competitive, you'll lend more quickly. If your rate is too low you are missing out on interest, but if it is too high you may not lend money at all and make no interest.
3.5.2. Why do my monthly returns vary slightly?
3.5.2.1. A borrower's first repayment will almost always be slightly larger than the rest of their repayments (because their first payment usually happens over a month after they receive their money)
3.5.2.2. Because your borrowers will have other lenders, their repayments have to be split. This may result in parts of pennies being owed to you - we keep a track of these and pay them into your account once you reach a full penny
3.5.2.3. Sometimes a borrower repays early or is late with a payment.
3.5.3. Can I change my rates?
3.5.3.1. Yes but only on money that has not yet been lent out or is not yet in processing.
3.6. Safety of money
3.6.1. Everyone who wants to borrow is identity-checked, credit-checked and risk-assessed
3.6.2. To diversify risk, your money is spread across a number of borrowers
3.6.3. A collections agency chases any missed payments on your behalf (exactly the same process used by banks).
3.6.4. We tell you how much bad debt you should expect, so you can take that into account
3.6.5. Until your money gets lent out, it is held in a segregated RBS account. This means it does not form part of Zopa's assets and is 100% safe in any eventuality.
3.7. Avaliable information
3.7.1. Will I know who my borrowers are?
3.7.1.1. You get to see a fair bit about your borrowers, although for security reasons we don't show you their full name or their address. You can see their username, their age, their home city, as well as how much they borrowed and for what.
3.7.1.2. They can send you a little message. Typically borrowers use this to explain a bit more about what they're going to do with the loan or just to say thanks.
3.8. Fees
3.8.1. Lenders pay an annual equivalent 1% fee on the amount they lend to borrowers. The fee is accrued on a daily basis equivalent to 1% p.a. and deducted monthly from their holding account balance. They are not charged for money which has not been lent out.
3.8.1.1. Here is an example: A lender lending £1,000 at 7% would earn £70 of interest each year if the money is always lent out and paid back. They would pay a fee of 1%, or £10, in total.
3.8.2. We deduct the fee from the holding account balance on a monthly basis (27th of each month).
3.8.3. If a borrower defaults on part of their loan, the lender is not charged a fee for that part - that would be stupid. And similarly, if a borrower repays early, the lender pays no fee on the portion of the loan that has been repaid.
3.9. Taxes
3.9.1. All returns are paid without any tax - even basic rate - deducted, so you should declare your gains to the Inland Revenue.
3.9.2. At the end of the tax year we'll make an annual income statement available to you to download from your account showing the total gross interest you've received over the previous 12 months, less any bad debt and fees.
3.9.3. Please also note that HMRC don't currently permit lenders to offset any bad debt losses against their interest gains. We don't consider this to be fair and are lobbying the Government and Treasury for Zopa lenders to be treated in the same way as commercial lenders.
3.10. Trustee account
3.10.1. When you transfer money into Zopa it is put into a segregated RBS account. It is held there until the moment it gets lent out, when it is transferred to the borrower.
3.10.2. This account attracts no interest but Zopa does not profit from it, and the money does not form part of Zopa's assets.
3.11. Insurance
3.11.1. Zopa is not covered by the FSCS guarantee scheme because we are not a bank and therefore cannot be included.
3.12. Asset Management
3.12.1. Can you manage my account for me?
3.12.1.1. Unfortunately not. Since Zopa is not a bank legal restrictions prevent us from doing so.
3.13. Diversification
3.13.1. Each time you offer to lend more than £2000 to others at Zopa:
3.13.1.1. You are agreeing to lend that money to at least 200 different Borrowers in amounts of £10 (each being the subject of a separate Loan Contract)
3.13.1.2. Unless you specify a higher amount, the maximum amount that you will lend to each Borrower from that offer is £10;
3.13.1.3. if you make multiple offers in the same market at any one time, you could lend more than £10 to the same Borrower, although each set of offers is still successfully diversified across 200 different Borrowers.
3.13.1.4. If you do not want to lend more than £10 to any one, please ensure that you do not have more than one offer in each market at any one time.
3.13.2. Each time you offer to lend less than £2000 to others at Zopa:
3.13.2.1. You are agreeing to lend that money in amounts of £10, each such amount being the subject of a separate Loan Contract;
3.13.2.2. Unless you specify a higher amount, the maximum amount that you will lend to each Borrower is £10;
3.13.2.3. You will not be lending to 200 different Borrowers.
3.13.3. Am I lending all my money to one person?
3.13.3.1. When you create a Lending Offer on the Zopa Markets we will automatically divide the total you are offering into £10 chunks, for example if you're offering £2000 this will be lent out to 200 borrowers.
3.13.3.2. No. To diversify your risk you can spread your funds across a number of borrowers, you can lend in chunks as little as £10.
3.13.3.3. As the lender though you can choose to lend however much you want to each borrower. The more borrowers you spread your funds across the more you are dispersing your risk.
4. Company
4.1. History
4.1.1. Zopa launched in the UK in March 2005.
4.2. Regulation
4.2.1. Zopa has received credit licenses from the Office of Fair Trading (No. 563134). Zopa is a member of CIFAS - the UK's leading anti-fraud association, and we are registered with the Office of the Information Commissioner (No. Z879078).
4.2.2. Currently we are not regulated by the FSA as none of our activity warrants regulation. Zopa's business as a lending and borrowing exchange is quite new and does not fall under any of the existing regulatory categories, and as a result the FSA would need an act of parliament to create a new one. We were closely monitored by the FSA whilst we performed activity that required regulation (the selling of insurance).
4.3. Loan Contract
4.3.1. The laws of the United Kingdom (and English law in particular) are the basis for the establishment of relations with you prior to the conclusion of the Loan Contract.
4.4. How it works?
4.4.1. Lending
4.4.1.1. 1. If you decide to lend you must first pay the total amount you wish to lend into the Zopa Members' Lending Account by bank transfer or direct debit from your Nominated Account, or by debit card linked to your Nominated Account.
4.4.1.2. 2. All payments you make with your username included will be recorded on My Zopa as a credit to your Zopa Wallet.By posting a Market Offer and you are offering to enter into a Loan Contract with a Borrower who meets your Lending Criteria.
4.4.1.3. 3. Each Market Offer is open to be accepted by a Borrower unless and until it is withdrawn by you. You will not be asked to confirm your Market Offer once it has been matched with a Borrower's Confirmed Bid.
4.4.1.4. 4. The Loan Contract will be formed automatically at that point.Once your Market Offer is matched with a Confirmed Bid, the £10 you have lent will be deducted from your Zopa Wallet and be credited to the relevant Borrower's Zopa Wallet or Zopa (in respect of the charges payable to Zopa by the Borrower).
4.4.1.5. 5. The Borrower will set up a direct debit to pay to the Zopa Members' Repayment Account the amount that is repayable to you and these amounts will be credited to your Zopa Wallet.
4.4.2. Borrowing
4.4.2.1. 1. If you want to borrow you will have the opportunity to post Indicative Bids specifying your Borrowing Criteria.
4.4.2.2. 2.The Zopa Markets will then notify you whether your Indicative Bid is likely to be successful by providing to you a Personalised Quote. If you wish to proceed at this stage, you may then post a Confirmed Bid, which must be in the same terms as your Indicative Bid, at which time the Loan Contracts will be formed.
4.4.2.3. 3. Once each of your Confirmed Bids has been matched with each Market Offers, we will provisionally credit your Zopa Wallet with the total amount you have borrowed, less our Borrowing Fee.
4.4.2.4. 4. Links between financial associates will remain on your and their credit reference files until such time as you or your partner successfully files for a disassociation with the credit reference agencies. When assessing the affordability of your repayments, we may take into account information about your financial associates in your credit reference.