Vision_for_2014_ICT
by Dicle Kaya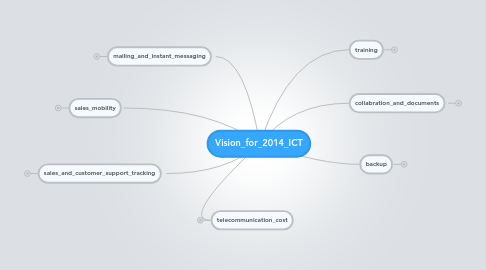 1. training
1.1. Product_and_Provider: Technical Cloud Training For VARs, Avnet
1.2. Key_Facilities: The two-day training session doesn't focus on specific vendors but more on understanding the concept of cloud computing and how that delivery model might be leveraged to solve end users' business problems. The training includes two separate tracks: sales and solutions engineering, to ensure that VARs can market and then execute on cloud solutions.
1.3. Business_Advantage: They need to balance the security and cost implications, all while helping to design the best efficient data center solution for that customer.
2. collabration_and_documents
2.1. Product_and_Provider: Leading collabrative document management software, Beyondoc
2.2. Key_Factionalities: This application is designed to help organizations become more effective in the way their people collaboratively produce, edit, store, secure and reuse organizational documents and knowledge.
2.3. Business_Advantages: Programme protects intellectual property and knowledge assets also for enabling corporate knowledge management, better coordination between consultants, departments and offices, to increase management capacity and efficiency of the consultants.
3. backup
3.1. Product_and_Provider: Asigra Cloud Backup, Asigra
3.2. Key_Factionalities: To improve their backup with a secure, reliable and predictable data protection cloud backup model, Asigra transforms the way businesses manage and protect their data by delivering proven market leading cloud backup solutions that seamlessly and efficiently manage, scale and deliver data protection services.
3.3. Business_Advantages: Award-winning Asigra Cloud Backup is an agentless hardware and platform agnostic cloud backup, recovery and restore software solution that supports servers, virtual machines, desktops, laptops, tablets, smartphones and cloud-based applications enabling organizations to resume business operations quickly while reducing costs and achieving peace of mind.
4. sales_and_customer_support_tracking
4.1. Product_and Providers: Sales cloud, Salesforce
4.2. Key_Factionalities: Social accounts and contacts, mobile, email integration, chatter, marketing and leads..
4.3. Business_Advantages: Get contacts and company profiles from the leading data sources, right inside the Sales Cloud. Connect with key decision makers faster, easily plan territories, and increase sales and marketing productivity with up-to-date, accurate data.
5. telecommunication_cost
5.1. Product_and_Provider: Cloud Telecom, Crexendotele
5.2. Key_Factionalities: The cloud can help small business save, getting lean the easy way, getting centered, rapid resolution to service issues..
5.3. Business_Advantages: As cloud telecom services become mainstream and more innovations are incorporated into cloud computing, business owners are discovering new and effective ways that the Cloud will help contribute to their success. Switching business resources to the cloud has become a popular decision among cost-conscious companies who wish to retain maximum levels of accessibility and efficiency even as they lower their expenses.
6. sales_mobility
6.1. Product_and_Providers: Mobility Global Offers Affordable Cloud Services, The Macias Group
6.2. Key_Factionalities: The Macias Group is one of the key success stories of business integration. Their infrastructure and data was organized in silos and performed independently. The implementation of a centralized architecture allowed the group to operate more efficiently resulting in overall lower Total Cost of Ownership. This architecture is planned for the short, medium and long term growth for the group
6.3. Business_Advantages: Mobility Global, a leader in cloud computing solutions offers small and medium-sized companies the opportunity to operate more efficiently and cost-effectively by implementing Cloud Storage and Infrastructure as a Service.
7. mailing_and_instant_messaging
7.1. Product_and_Provider: BroadCloud Instant Messaging & Presence, Broadsoft
7.2. Key_Factionalities: Programme includes; instant messaging, chat, presence, contact list, click-to-call, real time communication, easily move the conversation to the phone facilities.
7.3. Business_Advantages: Programme provides; value added service additions - An integrated IM&P service adds significant value to a telephony offer at a potentially higher margin to service providers - also, lower cost, increase customer satisfaction, reduce churn can be evaluated as the advantages.