List-Building Mind-Map
by zach lee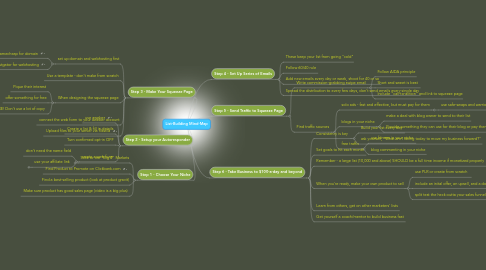 1. Step 4 - Set Up Series of Emails
1.1. These keep your list from going "cold"
1.2. Follow 60/40 rule
1.3. Add new emails every day or week, shoot for 40 or so
1.4. Spread the distribution to every few days, don't send emails every single day
2. Step 5 - Send Traffic to Squeeze Page
2.1. Write commission-grabbing swipe email
2.1.1. Follow AIDA principle
2.1.2. Short and sweet is best
2.1.3. Include "call-to-action" and link to squeeze page
2.2. Find traffic sources
2.2.1. solo ads - fast and effective, but must pay for them
2.2.1.1. use safe-swaps and warrior forum
2.2.2. blogs in your niche
2.2.2.1. make a deal with blog owner to send to their list
2.2.2.2. Provide something they can use for their blog or pay them
2.2.3. free traffic
2.2.3.1. use forums in your niche
2.2.3.2. blog commenting in your niche
3. Step 6 - Take Business to $100-a-day and beyond
3.1. Consistency is key
3.1.1. Build your list every day
3.1.2. ask yourself, "What am I doing today to move my business forward?"
3.2. Set goals to hit each month
3.3. Remember - a large list (10,000 and above) SHOULD be a full time income if monetized properly
3.4. When you're ready, make your own product to sell
3.4.1. use PLR or create from scratch
3.4.2. include an inital offer, an upsell, and a downsell
3.4.3. split test the heck outta your sales funnel!
3.5. Learn from others, get on other marketers' lists
3.6. Get yourself a coach/mentor to build business fast
4. Step 1 - Choose Your Niche
4.1. Stick to the "Big 4" Markets
4.1.1. Subtopic
4.2. Find Product to Promote on Clickbank.com
4.3. Find a best-selling product (look at product gravit)
4.4. Make sure product has good sales page (video is a big plus)
5. Step 2 - Setup your Autoresponder
5.1. use aweber
5.2. Create a list & fill in details
5.3. Turn confirmed opt-in OFF
5.4. create a web form
5.4.1. don't need the name field
5.4.2. use your affiliate link
5.4.2.1. in custom thank you page
5.4.2.2. in already-subscribed
6. Step 3 - Make Your Squeeze Page
6.1. set up domain and webhosting first
6.1.1. use namecheap for domain
6.1.2. use hostgator for webhosting
6.2. Use a template - don't make from scratch
6.3. When designing the squeeze page
6.3.1. Pique their interest
6.3.2. offer something for free
6.3.3. LESS is MORE! Don't use a lot of copy
6.4. connect the web form to your aweber account
6.5. Upload files to your server via filezilla