Induktion
by Daniel Bülow Nørgaard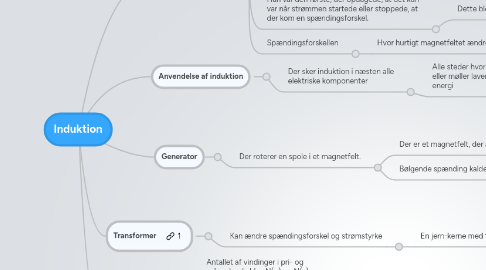 1. MIchael Faraday
1.1. Banebrydende eksperiment.
1.1.1. En jernkerne med to spoler
1.1.1.1. Den ene spole var rundt om et batteri
1.1.1.2. Den anden i forbindelse med et kompas
1.1.1.3. Hvis kompasnålen slog ud, måtte der være et magnetisk felt
1.2. Han var den første, der opdagede, at det kun var når strømmen startede eller stoppede, at der kom en spændingsforskel.
1.2.1. Dette blev kaldt induktion
1.3. Spændingsforskellen
1.3.1. Hvor hurtigt magnetfeltet ændres.
2. Anvendelse af induktion
2.1. Der sker induktion i næsten alle elektriske komponenter
2.1.1. Alle steder hvor kraftværker eller møller laver elektrisk energi
2.1.1.1. Induktion
3. Generator
3.1. Der roterer en spole i et magnetfelt.
3.1.1. Der er et magnetfelt, der aftager eller vokser
3.1.2. Bølgende spænding kaldes vekselspænding
4. Transformer
4.1. Kan ændre spændingsforskel og strømstyrke
4.1.1. En jern-kerne med to spoler om
4.1.1.1. Den en spole skaber et magnetfelt
4.1.1.1.1. Primærspolen
4.1.1.2. Når magnetfeltet ændres, induceres en spændingsforskel i den anden.
4.1.1.2.1. Sekundærspolen
5. Transformering
5.1. Antallet af vindinger i pri- og sekundær kaldes N(p) og N(s)
5.2. Spændingsforskellen kaldes U(p) og U(s)
5.2.1. Det gælder at
5.2.1.1. U(s)/U(p)=N(s)/N(p)
5.2.1.1.1. Spændingen vokser, når vindingstallet vokser
5.2.2. Det gælder omvendt at
5.2.2.1. I(s)/I(p)=N(p)/N(s)
5.3. En transformer kan både ændre strømsyrke og spændingsforskel