Compression of support sites
by badria hassan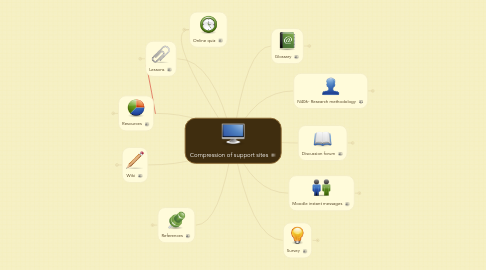 1. Discussion forum
1.1. •Discussion forum can be used to discuss about different topic related to Compression of support sites such as presentation software site and blogging site. Through discussion other views will be helpful to decide which site or software will be better to use. •Teachers will use Moodle to share their opinion about using what they prefer to use during their teaching career. They also can use it to share and discuss about features, cons and pros related to some sites such as blogger and word Press like a blogging websites. •In discussion forum I will add different question which will help me to know what teachers prefer to use and which type of software or website is suitable to use with their target audience to start giving sessions to help them to know and learn more about the software they want to learn.
1.2. Examples of topic I will use to discuss about: • If you like to use blogger as blogging website which type of features that you like more about it and how it will help you with the students? • If you prefer to use WordPress , why do you think is better to use it than other blogging website? • Do you think that Prezi as presentation software rather than MS PowerPoint will help you to motivate your students and which do you like or dislike about it?
2. Glossary
2.1. Glossary is a place where Allows participants to create and maintain a list of definitions, like a dictionary and it can be grouped in categories. Teachers can use glossary to share difficult words with other teachers and they can comment on glossary entries and it can be fully searched and viewed with different display formats.
3. Survey
3.1. • Using survey will help me a lot to know what type of software or website teachers need to train on and to collect data about target of students and which type of software that will be suitable to use with them. • Teachers can use Moodle for the survey to answer the questions which will help to know about their needs and what they like or dislike most about the software or website which I will use in my teachers sessions. • In the survey I will includes different type of question such as multiple choices, true and false, rating and comment which will allow them to share and discuss their opinion and knowledge.
3.2. Examples of question in the survey Did you use any of blogging website such as Blogger or WordPress before? Do you think that students will learn better when teachers use new of software?
4. Wiki
4.1. A wiki is a collection of collaboratively authored web pages. It starts with one front page. Teachers can edit the page or add more pages to the wiki by creating links to new pages that don't yet exist. They can edit a document together or you can create group wikis which are only editable by group members.
5. Lessons
5.1. A lesson is a single activity where a series of pages are presented to the teachers and it created with Moodle's HTML editor. Teachers can use lesson tool as a resource to train on using blogging website or presentation software where they can find activates, tutorials and examples to help them to understand more about the topic.
5.2. Activities: will contains content and questions that will help the teachers to understand and apply what they will learn immediately
5.3. Tutorials: videos embedded from YouTube which teachers can use it to learn step by step like how to create account for blogger, WordPress, Prezi,.. etc.
5.4. Examples: images attached to the lesson to present the ideas for the teachers.
6. Moodle instant messages
6.1. It is looks like an IM window and contains several tabs let you switch between messaging a user, searching for users and reading archived messages. It will help the teachers to communicate with each other's and they can forward the messages. They can have messaging window looks like a private chat and can be invited to the little chat.
7. Online quiz
7.1. Online quiz will be creating to evaluate the understanding of the content in the session. Teachers will have small quiz to answer the question which will help me to know what they need to practice on more.
8. N406- Research methodology
8.1. Data collection
8.1.1. Survey
8.1.2. Observation
8.1.3. Interview
8.2. Data storage
8.3. Research methodology
8.4. Ethics
8.4.1. Anonymity: develop a short presentation with partner on the ethical statement " All researchers participant should be kept anonymous"
8.4.1.1. The Meaning of anonymous • Anonymous: whose name is not known or not given; lacking individuality or distinctiveness obscuring somebody's identity, or allowing somebody to go unnoticed. • Pseudonymous: bearing or written under a name that is not the correct name of the person concerned.
8.4.1.2. Argument for and against the statement •Protect themselves and their strategies from others attack. •It allows the less-confident to put their opinions forward without fear. •It allows people to interact in forums they could not otherwise. •It allows people to say things they otherwise might not. •People how being anonymous can ignore the noise that comes from other comments. •If the person is anonymous it does effect in other behavior Against   • "it is very unlikely that individual anonymity can be maintained through pseudonyms in relation to the other people involved". (Walford,2005) • "Using pseudonyms means that readers are unable to verify any of the material presented in a research report". (Walford,2005) • "The findings of the research could be spurious generalizability". (Jan Nespor,2000) • People could lost their ownership. (Grinyer 2002) • Impact on the integrity of the data. (BSA, 2004) • "This has significant implications for the transparency of research and for assessments of reliability and rigour." (Wiles, Crow, Heath & Charles,2006)
9. References
9.1. •"Wiki module - MoodleDocs." MoodleDocs. N.p., n.d. Web. 13 Dec. 2012. <http://docs.moodle.org/23/en/Wiki_module>. • Moodle Features Ppt Presentation . (n.d.). PowerPoint Presentations Online - Upload and Share on authorSTREAM. Retrieved December 12, 2012, from http://www.authorstream.com/Presentation/tblackburn-84840-moodle-features-education-ppt-powerpoint/ • Features - MoodleDocs. (n.d.). MoodleDocs. Retrieved December 12, 2012, from http://docs.moodle.org/20/en/Features • Gneezy, U. (2008, October). What's in a name? Anonymity and social distance in dictator and ultimatum games. Retrieved December 5, 2012, from sciencedirect: http://www.sciencedirect.com/science/article/pii/S0167268108000437 • Navarro-Arribas, G. (2012, May). User k-anonymity for privacy preserving data mining of query logs. Retrieved December 5, 2012, from sciencedirect: http://www.sciencedirect.com/science/article/pii/S0306457311000057
10. Resources
10.1. A resource supports any electronic content, word, PowerPoint, flash and sounded and files can be uploaded zipped or unzipped. All materials can be added to the teachers in resources where they can download any file from it. Teachers will be able to use Moodle to find the materials that will help them for the session which will includes all information related to the using blogging website and presentation software to use it anytime they want.