CRIMINAL LIFE OF PETER DUPAS
by Emma Benson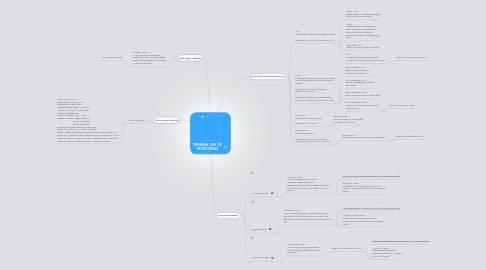 1. Early Minor Offences
1.1. October 1968 15 y/o Dupas attacks female neighbour with borrowed kitchen knife, slashes fingers and attempts to attack with knife.
1.1.1. 18 Months probation
2. Low level sex-related crimes
2.1. 1974 Convicted on rape and burglary charges Sentenced 9 years (with minimum of 5)
2.1.1. March 1972 Dupas found in Oakleigh backyard, watching woman undress
2.1.2. 1973 Multiple cases of knocking on woman's doors, pretending to have car troubles; asking to borrow screwdriver and attacking them.
2.1.3. November 1973 Dupas commits a rape in Mitcham
2.1.4. 1974 Caught watching women shower in a toilet block at McCrae caravan park
2.1.4.1. Released: 4th September 1979
2.2. 1980 Convicted of rape, malicious wounding, assault with intent to rob and indecent assault Sentenced to 6 and a half years (with minimum of 5) note: the following were committed wearing a balaclava and carried a knife
2.2.1. 9th November 1979 Dupas rapes woman in a Frankston toilet block
2.2.2. 11th November 1979 Chases and threatens woman with a knife
2.2.3. 18th November 1979 Stabs elderly woman in vacant block
2.2.4. 19th November 1979 Similar crime to the previous day, in similar area
2.2.4.1. Released: February 1985
2.3. June 1985 Convicted on rape charges Sentenced to 12 years
2.3.1. February 1985 Commits rape just 4 days after his release from prison
2.4. August 1994 False imprisonment Sentenced to 3 years, 9 months (with minimum of 2 years 9 months)
2.4.1. January 1994 False Imprisonment incident, Lake Eppalock
2.4.1.1. Released: September 1996
3. Who is Peter Dupas?
3.1. Brief biography
3.1.1. Peter Norris DUPAS Date of birth: July 6, 1953 Classification: Serial killer Characteristics: Rape - Mutilation Number of victims: 3 convicted killings, possibly more Date of murders: 1997 - 1999 Murder Victims:-Margaret Maher, -Mersina Halvagis, -Nicole Patterson Method of murder: Stabbing with knife Location: Melbourne, Victoria, Australia Status: Sentenced to life imprisoment with no possiblility of parole on August 22, 2000. Sentenced to a second term of life imprisonment on August 16, 2004. Sentenced to his third life sentence with no minimum term on August 27, 2007
4. Convicted Murders
4.1. Nicole Patterson
4.1.1. April 19, 1999 The murdered body of Nicole Patterson was discovered. Dupas posed as a client, visited Patterson in her Northcote home and stabbed her 27 times
4.1.1.1. http://www.austlii.edu.au/au/cases/vic/VSC/2000/356.html
4.1.1.2. August 22, 2000 Sentenced to life imprisonment for the murder of Nicole Patterson with no minimum period.
4.2. Margaret Maher
4.2.1. October 4, 1997 The murdered body of Margaret Maher was discovered on Cliffords Road, Somerton. She had been murdered during the early hours of the day.
4.2.1.1. http://www.austlii.edu.au/au/cases/vic/VSC/2004/281.html
4.2.1.2. August 16, 2004 Dupas Sentenced to a second term of life imprisonment for the murder of Margaret Maher
4.3. Mersina Halvagis
4.3.1. 1 November 1997 While visiting her grandmothers grave, Halvagis stabbed 30 times by Dupas
4.3.1.1. Body discovered the next day.
4.3.1.1.1. http://www.austlii.edu.au/au/cases/vic/VSC/2010/540.html
4.3.1.1.2. August 27, 2007 Dupas sentenced to life imprisonment for the murder of Mersina Halvagis.