LONDON
by A Laninausten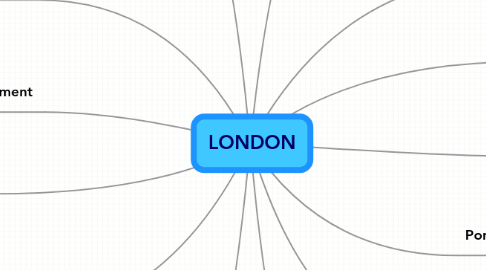 1. British Museum
1.1. museum of human history and culture
1.2. its collections number more than seven million objects
1.3. established in 1753
2. Buckingham Palace
2.1. the official London residence of the British monarch
2.2. a setting for state occasions and royal hospitality
2.3. built for the Duke of Buckingham in 1703 and acquired by George III in 1761
3. Camden Market
3.1. Camden Town
3.1.1. near the Hampstead Road Lock of the Regent's Canal (which is usually called Camden Lock)
3.2. 6 sections
3.2.1. Camden Lock Market
3.2.2. Stables Market
3.2.3. Camden Lock Village
3.2.4. Buck Street Market
3.2.4.1. Electric Ballroom
3.2.4.1.1. 1950s
3.2.5. Inverness Street Market
3.3. Caught fire in 2008
3.4. 1974
4. Globe Theatre
4.1. associated with William Shakespeare
4.2. built in 1599
4.3. destroyed by fire on 29 June
4.4. a modern reconstruction of the Globe, named "Shakespeare's Globe"
5. Houses of Parliament
5.1. contains around 1,100 rooms, 100 staircases and 3 miles (5 km) of corridors
5.2. After a fire in 1834, the present Houses of Parliament were built over the next 30 years. They were the work of the architect Sir Charles Barry and his assistant Augustus Welby Pugin.
6. London Aquarium
6.1. first opened in 1997
6.2. claims that a million visitors a year view its displays
6.3. includes three floors and 14 different zones
6.4. officially became a Sea Life Centre in April 2009
7. London Eye
7.1. the Millennium Wheel
7.2. 135 metres (443 ft)
7.2.1. the biggest Ferris wheel in Europe
7.3. was formally opened by the Prime Minister, Tony Blair, on 31 December 1999
8. Madame Tussaud's
8.1. was set up by wax sculptor Marie Tussaud
9. Portobello Market
9.1. one of London's notable street markets, known for its second-hand clothes and antiques
9.2. Every August since 1996 the Portobello Film Festival has been held in locations around Portobello Road
10. St Paul's Cathedral
10.1. the present building dates from the 17th century
10.1.1. generally reckoned to be London's fifth St Paul's Cathedral
10.2. Sir Christopher Wren
10.3. over 200 memorials
11. Tate Modern
11.1. Britain's national museum of international modern art
11.2. the galleries are housed in the former Bankside Power Station
12. Tower of London
12.1. Her Majesty's Royal Palace and Fortress
12.2. located within the London Borough of Tower Hamlets
12.3. the oldest building used by the English government
12.4. was a fortress, a royal palace, and a prison
13. Westminster Abbey
13.1. The Collegiate Church of St Peter at Westminster
13.2. It is the traditional place of coronation and burial site for English, later British and later still monarchs of the Commonwealth Realms.