SEO + Social Media + Content Marketing + Social Shares + Guest Blogging Campaigns + Penguin Safe Link Building
by Marcela Vivo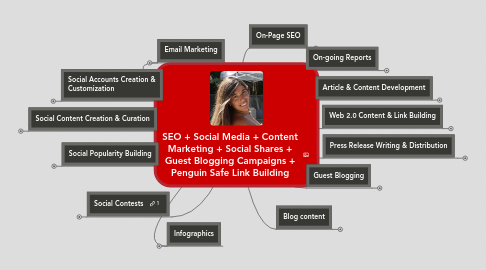 1. On-Page SEO
1.1. Keyword Research
1.2. Keyword Placement and Integration
1.3. W3C Validation
1.4. 404 Errors
1.5. XML & On-site Site Map
1.6. Page Load Times
1.7. Social Integration & Plugins
2. Infographics
2.1. Brainstorm and research topics for your infographics
2.2. Write Content including statistics
2.3. Create professional looking infographics
2.4. Promote through social channels and direct engagement
3. Social Accounts Creation & Customization
3.1. Create accounts in prominent social channels
3.2. Customize each social channel with your information, images, descriptions, links, etc.
4. Social Content Creation & Curation
4.1. Research industry news
4.2. Create original content about your industry
4.3. Distribute industry news through your social channels
5. Article & Content Development
5.1. Professional content for your static pages
5.2. Professional content to be shared with social channels including Social Media
6. Guest Blogging
6.1. Write articles relevant to your industry
6.2. Publish articles with links back to your site
6.3. Encourage social engagement
7. Web 2.0 Content & Link Building
7.1. High quarlity artilces written for sites like squidoo, hubpages, posterous, tumblr, etc.
7.2. Create accounts on the most prominent web 2.0 properties
7.3. Add articles with links embedded to your content
8. Social Contests
8.1. Organize & Run a social media contest
8.2. Promote your contest for greater visibility
8.3. Contact Social Users and Blogs directly to promote your contest
9. On-going Reports
9.1. Rankings
9.2. Link Building
9.3. Friends / Followers
9.4. Traffic
10. Blog content
10.1. Add new content to your blog using long tail keywords relevant to your primary keyword
10.2. Establish a consistent content update ratio
10.3. Invite guest bloggers to produce high quality content on your behalf as well as social interaction with their tribe
11. Social Popularity Building
11.1. Add friends on major social channels
11.2. Direct engagement on social channels including direct messages, retweets, and direct contacts
11.3. Join communities on LinkedIn, Quora, ask and answer questions
11.4. Leave interesting and insightful comments on relevant blogs
12. Email Marketing
12.1. Create an email marketing template
12.2. Incorporate email subscription form into your site
12.3. Create & Distribute email to your list
13. Press Release Writing & Distribution
13.1. Research & Brainstorm
13.2. Write a high quality press release
13.3. Distribute through paid distribution channels
13.4. Distribute through at least 25 free press release sites