Principles and Practices for teaching English
by Evelin Aracelly Santamaria Santana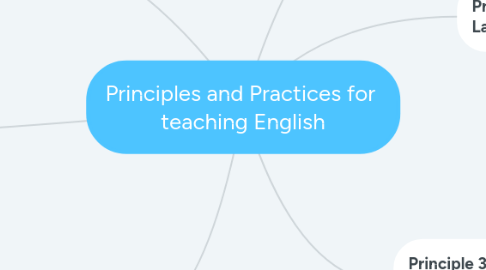 1. Principle 1: Know Your Learners
2. Principle 2: Create Conditions for Language Learning
3. Principle 3: Design High-Quality Lessons for Language Development
4. Principle 4: Adapt Lesson Delivery as Needed
5. Principle 5: Monitor and Assess Student Language Development
6. Principle 6: Engage and Collaborate within a Community of Practice
7. Teachers learn basic information about their students' families, languages, cultures, and educational backgrounds to engage them in class and prepare and deliver lessons more effectively.
8. Teachers embrace and leverage the resources that learners bring to the classroom to enhance learning.
9. Teachers create a classroom culture so students feel comfortable. They make decisions regarding the physical environment, the materials, and the social integration of students to promote language learning.
10. Teachers demonstrate expectations of success for all learners.
11. Teachers plan instruction to enhance and support students' motivation for language learning.
12. The Most Ideal Conditions for Learning a New Language
13. The first factor is living environment.
14. The second factor is practicing.
15. The last factor is risks taking. Making mistakes is also another way to learn language.
16. All teachers teachers have a role to play in developing learners' academic language skills.
17. The model of a lesson plan contains 8 interconnected segments of lesson planning:
18. • Identifying content to be taught • Defining a lesson objective • Planning assessment • Learning activities • Teaching activities • Resources • The introduction • A "pertinent" question
19. At the start of any planning process, the teacher usually considers questions such as the following:
20. • What is the context of the the school? •Which resources are available? • Who are my learners? • What are their interests, strengths and weaknesses? • How proficient are they in the LOLT? • How much time is available for the attainment of lesson objectives?
21. If students struggle or are not challenged enough, teachers consider the possible reasons and adjust their lessons.
22. Adapt your lesson plans to each individual student's learning style.
23. 1. Help Your Students Find Their Learning Styles. 2. Differentiate Lessons Based on Learning Style. 3. Address Multiple Learning Styles at Once. 4. Lesson Plans for Everybody
24. Language learners learn at different rates, so teachers regularly monitor and assess their language development in order to advance their learning efficiently.
25. Teachers monitor student errors.
26. Teachers reteach when errors indicate that students misunderstood or learned the material incorrectly.
27. To be constructive, a teacher's feedback in response to a learner's error is delivered strategically and in a timely manner but it must also suit the age and language development level of the student.
28. The feedback can be positive or corrective. It is important that the feedback be specific and related to what learners are doing well in addition to what they can improve.
29. Teachers collaborate with others in the profession to provide the best support for their learners with respect to programming, instruction, and advocacy.
30. Teachers meet with colleagues regularly to co-plan for future learning.
31. Teachers participate in continuous learning and ongoing professional development and they also reflect critically on their own classroom practices.