Healthcare Information Technologies (HIT)
by Jaime REACH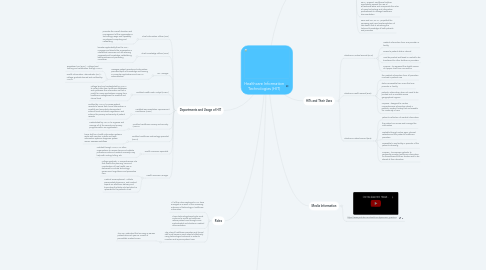 1. Technology Landscape Timeline in the US
1.1. 1920s - emergence of standardized medical records through ARNLA →AHIMA
1.2. 1960'S - Dr. Weed at Yale creates the Problem-Oriented Medical Record. The creation of Medicare and Medicaid drives the need for documentation for reimbursement. Computer technology enables the creation of EMRs to support this need.
1.3. 1980s and 1990s - Desktop computers, and voice recognition capability expand the use of EMRs to medical practices and hospitals. The World Wide Web emerges.The IOM sets standards for EHR systems. The ICD-10 Coding standard is introduced.
1.4. 2000s - HITECH signed into law
1.5. 2010 - present. Healthcare facilities significantly expand the use of EMRs/EHRs/EPRs and incorporate the roles of many technology and information professionals to manage healthcare documentation.
1.6. 2020 and COVID-19 - propelled the necessary and rapid implementation of tele-health that is enhancing the technical knowledge of both patients and providers
2. HITs and Their Uses
2.1. Electronic Medical Record (EMR)
2.1.1. medical information from one provider or facility
2.1.2. access to patient data is internal
2.1.3. must be printed and faxed or mailed to be transferred to other facilities or providers
2.1.4. Purpose - to represent the digital version of a paper chart from one source
2.2. Electronic Health Record (EHR)
2.2.1. the medical information from all providers involved in patient care
2.2.2. data is accessible from more that one provider or facility
2.2.3. patient's information does not need to be printed as it is available across geographical regions
2.2.4. Purpose - designed to contain comprehensive information about a patient's medical history that is shareable for continuity of care
2.3. Electronic Patient Record (EPR)
2.3.1. patient's collection of medical information
2.3.2. the patient can access and manage this information
2.3.3. available through online apps, internet websites and the patient's healthcare providers
2.3.4. accessible to any facility or provider of the patient's choosing
2.3.5. Purpose - to empower patients to personally manage healthcare information for themselves and their families and to be shared at their discretion
3. Departments and Usage of HIT
3.1. Chief Information Officer (CIO)
3.1.1. provides the overall direction and management of the organization's technology usage and capability via physical computing and networking
3.2. Chief Knowledge Officer (CKO)
3.2.1. broader applicability than the CIO - manages and directs the organization's intellectual resources such as retaining organizational knowledge, establishing best practices and promoting innovation
3.3. HIT Manager
3.3.1. manages patient records and information, provides depth of knowledge and training in computer applications and ICD-10 administration
3.3.1.1. Registered HIT (RHIT) - college level training and certification through AHIMA
3.3.1.2. Health Information Administrator (HIA) - college graduate trained and certified by AHIMA
3.4. Certified Health Data Analyst (CHDA)
3.4.1. college level and credentialed by AHIMA to collect data from healthcare databases and synthesize this information so that is useful for many applications ranging from healthcare management to research and clinical trials
3.5. Certified Documentation Improvement Practitioner (CDIP)
3.5.1. certified by AHIMA to review patient records to assure that clinical information is carefully and accurately documented, enforce fraud and abuse regulations, and enforce the privacy and security of patient records
3.6. Certified Healthcare Privacy and Security (CHPAS
3.6.1. credentialed by AHIMA to organize and manage all of the security and privacy programs within an organization
3.7. Certified Healthcare Technology Specialist (CHTS)
3.7.1. trains staff on e-health information systems, works with vendors, installs and tests information systems, diagnosis system issues, assesses workflows
3.8. Health Insurance Specialist
3.8.1. certified through AHIMA, or other organizations to review claims and validate procedure costs and medical necessity, may help with coding, billing, etc.
3.9. Health Services Manager
3.9.1. college graduate - a comprehensive role that directs the planning, care and coordination of how health care is delivered to include technology, government regulations and preventive care
3.9.2. Medical Transcriptionist - collects prerecorded physician's and medical reports via electronic delivery and transcribes that data into text which is uploaded to the patient's chart
4. Roles
4.1. All of the roles mentioned in HIT have emerged as a result of the increasing advances of technology in healthcare information.
4.2. These technology based roles must continue to evolve as healthcare refines patient care through more sophisticated and electronic medical documentation.
4.3. The roles of healthcare providers and clinical staff must become more adept at effectively using technological advances in order to maintain and improve patient care.
4.3.1. The IOM estimated that as many as 98,000 patients die each year as a result of preventible medical errors.
5. References El-Miedany, Y. (2017). Telehealth and telemedicine: How the digital era is changing standard health care. Smart Homecare Technology and TeleHealth, Volume 4, 43–51. Telehealth and telemedicine: how the digital era is changing standard | SHTT Evans, R. S. (2016). Electronic health records: Then, now, and in the future. Yearbook of Medical Informatics, 25(S 01), S48–S61. https://doi.org/10.15265/iys-2016-s006 Mary Jo Bowie. (2019). Essentials of health information management : Principles & practices. Cengage. wpengine. (2019, April 12). The history of healthcare technology and the evolution of EHR. VertitechIT. https://www.vertitechit.com/history-healthcare-technology/ ‌
6. Media Information
6.1. https://www.youtube.com/watch?v=ky6OR3-DVyU&t=6s