Amber Price's Digital Formative Assessments
by Amber Price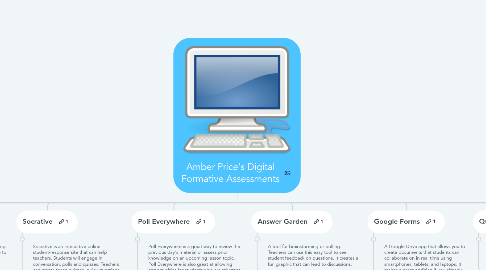 1. Kahoot!
1.1. Kahoot! is a student-response tool. It allows teachers to run game-like multiple-choice answer quizzes. Teachers can either create their own quizzes or find, use, or use public quizzes.
2. Flipgrid
2.1. Flipgrid is a website that allows teachers to create "grids". Each grid is like a message board where teachers can pose questions, called "topics," and their students can post their responses.
3. iBrainstorm
3.1. iBrainstorm is an app that acts as a digital whiteboard. On this whiteboard teachers and students can collaborate without actually sharing a device.
4. Seesaw
4.1. This tool helps teachers improve parent communication and makes formative assessment fun. Seesaw has portfolios. Those portfolios make it easy to give students choices to prove their knowledge.
5. Pear Deck
5.1. Students use their devices to follow along with the teacher's slideshow on a classroom screen. Teachers can view students' responses to these questions immediately, as well as share the results anonymously on-screen for all students to see.
6. Class Kick
6.1. ClassKick allows teachers to post assignments for students, so both the teacher and peers can provide feedback over the assigned work. It also allows students to monitor their progress and work.
7. Formative
7.1. Formative allows you to view students' progress as they complete graphic organizers, work out math problems, and more! Teachers can talk with students digitally offering them private and direct feedback.
8. Plickers
8.1. Plickers is a rapid-response classroom-polling app. It lets teachers use one mobile device to scan paper cards for student responses. Teachers can create individual or set of questions for students to work with.
9. Socrative
9.1. Socrative is an interactive online student-response site that can help teachers. Students will engage in conversation, polls and quizzes. Teachers can create these quizzes, quick questions, and exit slips so that they can give feedback for each student.
10. Poll Everywhere
10.1. Poll Everywhere is a great way to review the previous day's material or assess prior knowledge on an upcoming lesson topic. Poll Everywhere is also great at allowing opportunities for students who are reluctant to speak up to share their thoughts with classmates.
11. Answer Garden
11.1. A tool for brainstorming or polling. Teachers can use this easy tool to see student feedback on questions. It creates a fun graphic that can lead to discussions.
12. Google Forms
12.1. A Google Drive app that allows you to create documents that students can collaborate on in real time using smartphones, tablets, and laptops. It makes a great addition if you already use Google Classroom.
13. Quizlet
13.1. On Quizlet teachers can create flashcards, tests, quizzes, and study games that are engaging and accessible online to students.
14. NearPod
14.1. NearPod gives students opportunities for interaction and immediate feedback. They can do this by drawing on a picture or diagram, respond to a poll question, post a note or image to a collaboration board, or take a multiple-choice quiz.
15. PlayPosit
15.1. PlayPosit is an online assessment tool that lets teachers add tons of great stuff to lessons. Teachers are able to add quiz questions into videos from Youtube and Khan Academy or any other video site.
16. ClassFlow
16.1. ClassFlow get teachers to create and deliver interactive, content-rich lessons using interactive whiteboard presentation and digital quizzing, polling, and response all in one place!
17. GoClass
17.1. GoClass is a learning platform that allows teachers to create lessons and deliver them directly to students' tablets or phones. GoClass lessons follow a specific structure: show a photo or videos, explain with notes and examples, and ask questions through polls and assessments.
18. Slido
18.1. Slido is a way for teachers and students to communicate. It offers a way to poll students about just about anything! Let students submit one-word reactions to an article or short story, and watch the word cloud appear. Or, it can be added right into a Google Slide lesson!
19. Gimkit
19.1. Gimkit is a classroom game-show platform where students compete by answering questions on their electronic devices. Students are engaged and will ask to keep playing. The assignments are taken care of and graded for you. Allowing you to give students feedback quickly.
20. The Answer Pad
20.1. The Answer Pad is made to get rid of those old school paper tests. The Common Core alignment is perfect for helping ensure you meet standards. All the tests are auto-scored, giving reports of the data by individual student performance or by test item.