When We Compare Ourselves To Others, Life Looks Shit
by Danny Forest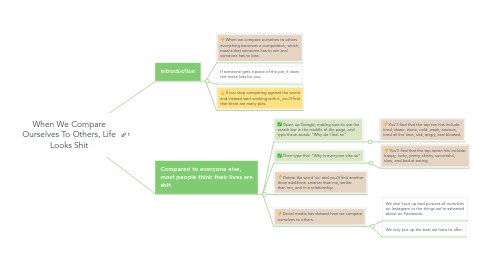 1. Introduction
1.1. When we compare ourselves to others everything becomes a competition, which, means that someone has to win and someone has to lose.
1.2. If someone gets a piece of the pie, it does not mean less for you.
1.3. If you stop competing against the world and instead start working with it, you'll find that there are many pies.
2. Compared to everyone else, most people think their lives are shit.
2.1. Open up Google, making sure to use the search bar in the middle of the page, and type these words: "Why do I feel so"
2.1.1. You'll find that the top ten hits include: tired, down, alone, cold, weak, anxious, tired all the time, sick, angry, and bloated.
2.2. Then type this: "Why is everyone else so"
2.2.1. You'll find that the top seven hits include: happy, lucky, pretty, skinny, successful, slow, and bad at eating.
2.3. Delete the word 'so' and you'll find another three additions: smarter than me, better than me, and in a relationship.
2.4. Social media has skewed how we compare ourselves to others.
2.4.1. We don't put up bad pictures of ourselves on Instagram or the things we're ashamed about on Facebook.
2.4.2. We only put up the best we have to offer.