HOW TO PROTECT THE ENVIRONMENT FROM HOME
by Mel Johamy JC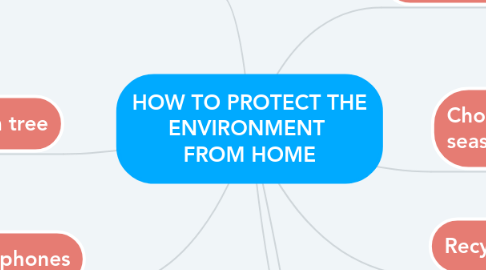 1. Don't waste water
1.1. The water crisis
1.1.1. Is one of the most serious environmental threats on the planet.
1.2. For example
1.2.1. Turn off the water taps
1.2.1.1. While you brush your teeth
1.2.1.2. Wash your hands
1.2.1.3. Take a shower
2. Turn off unused lights
2.1. We must become aware of the cost of energy
2.1.1. For example
2.1.1.1. Turn off the computer at night
2.1.1.2. Turn off the lights when you leave a room
2.2. You will save money and help to take care of the environment.
2.2.1. For example
2.2.1.1. Replace all the light bulbs in your home with energy saving light bulbs
3. Choose regional and seasonal foods
3.1. You will eat in a healthier, fresher and cheaper way
3.1.1. While generating a positive impact for the economy of your area
3.2. Will save the car trip
3.2.1. Cars that pollute the environment
4. Recycle the garbaje
4.1. Is one of the best ways to take care of the environment.
4.2. You can buy or make the containers
4.3. Is important to classify it
4.3.1. For possible second use
5. Choose reusable products
5.1. It is best to buy products of more than one use
5.1.1. For example
5.1.1.1. Buy cloth napkins
5.2. The indiscriminate use of plastics
5.2.1. Is highly damaging to the environment.
5.2.1.1. Also, animals die in many ways from plastic
6. No more plastic bags
6.1. They are not biodegradable
6.1.1. They pollute our ocean
6.2. The best would be
6.2.1. Bring your own bags
6.2.1.1. Better if they are cloth
7. Recycle old cell phones
7.1. Their batteries introduce toxic substances
7.1.1. Into our environment
7.2. Stores and programs take care of
7.2.1. Recycle this type of items
8. Plant a tree
8.1. Provides many benefits
8.1.1. Create oxygen
8.1.2. Reduce air and water pollution
8.2. If you don't have space you can plant something small like
8.2.1. Flowers or plants
8.2.1.1. No matter how small it is