PROPOSAL MIND MAP
by yj88 h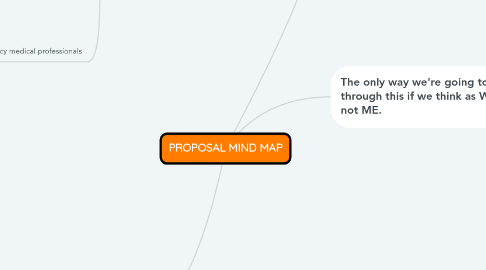 1. The only way we're going to get through this if we think as WE, not ME.
1.1. Individual Product Donation
1.1.1. -Consumable Medical Supplies (non-expired) -Durable Medical Equipment (new or gently used) -Biomedical Devices (fully functional)
1.2. Corporate Product Donations
1.2.1. -Have cosmetically-damaged packaging -Production overages -Usable returned products -New products that a company wishes to donate to charity
1.3. Donate medical supplies
1.3.1. Supplies for Healthcare Workers
1.3.1.1. Surgical gloves
1.3.1.2. Masks
1.3.1.3. Medical books and teaching materials
1.3.1.4. Surgical gowns
1.3.1.5. Scrubs, caps, and surgical shoe covers
1.3.2. Medical Supply List
1.3.2.1. Anesthesia — masks, breathing circuits, LMA's, hyperinflation bags, epidural kits
1.3.2.2. Books (Medical ONLY) — medical textbooks, journals, teaching aids
1.3.2.3. Casting Materials — undercast padding, plaster wrap, casting tape
1.3.2.4. Drainage/Irrigation — irrigation trays, suction catheters, yankauers, wound evacuators
1.3.2.5. Drapes — surgical, exam, single and drape packs
1.3.2.6. Dressings — gauze pads/rolls, elastic, bandages, wound dressings, dressing kits, medical tape
1.3.2.7. Electrodes — EKG/ECG, ESU, EMS, defibrillation, needles/blades
1.3.2.8. Endo/Laparoscopic — staplers, trocars, obturators, graspers, dissectors
1.3.2.9. Feeding — nasogastric tubes, enteral administration sets, gravity bags – NO SOLUTION
1.3.2.10. Gloves — surgical and exam
1.3.2.11. Gowns — surgical & patient
1.3.2.12. Infant — bottles, newborn caps, diapers, birthing blankets
1.3.2.13. Medical Apparel — scrubs, masks, caps, shoe covers, aprons
1.3.2.14. Mobility Aids — wheel chairs crutches, walkers, canes
1.3.2.15. Monitoring — leads, temp probes, BP cuffs, pulse ox/O2 sensors
1.3.2.16. Needles/Syringes — all types and varieties, sharps disposal containers
1.3.2.17. Nursing Aids — dressing aids, underpads, restraints, anti-embolism stockings, diapers
1.3.2.18. Urinary — catheters, catheter trays, drainage bags, skin prep items, specimen containers
2. The most important thing for us is save lives.
2.1. What is Emergency Surgery?
2.1.1. Surgical emergency is a medical emergency for which immediate surgical intervention is the only way to solve the problem successfully.
2.2. Emergencies that require surgery
2.2.1. Acute trauma
2.2.2. Invasive types of resuscitation and surgery for certain causes of acute respiratory failure
2.2.3. Severe trauma to the head, chest, abdomen, or extremities
2.2.4. Severe burns
2.2.5. Cardiac events, such as heart attacks, cardiac shock and cardiac arrhythmia
2.2.6. Aneurysms
2.2.7. Neurological conditions/brain conditions
2.2.8. Abdominal emergencies such as perforated ulcer, appendicitis, cholecystitis (gallbladder infection), or bowel blockage
2.3. Emergency medical professionals
2.3.1. -Emergency physician -Emergency nurse -Emergency medical technician -Paramedic
3. Vertical treatment room
3.1. What is vertical treatment room?
3.1.1. These spaces are designed for short-term occupancy. If patients can forgo lying down unnecessarily, they are more likely to experience a shorter visit, this helps to increase the staff's operational more efficiency.
3.2. Steps to Designing a Vertical Emergency Department
3.2.1. Step 1: Team Triage -Implement "rapid medical evaluation" or some form of team triage into the ED, so patient needs are immediately assessed by a care provider; -Patients that can be immediately treated will receive timely care and go home; -Patients that require further testing or procedures, but are still low acuity, can be sent to a "vertical space" to wait for results; -Patients that require high acuity care will be sent immediately to an acute bed.
3.2.2. Step 2: Vertical Spaces -Provide a small area with chairs or recliners; -Consider a separate room with television/magazines for those awaiting test results; -Use universal treatment carts with supplies that can be moved from patient to patient as opposed to moving patients into a treatment room that contains the appropriate supplies.
3.2.3. Step 3: Keeping Patients Vertical -Use oral medications, not intravenous, whenever possible; -Keep patients in street clothes unless it is necessary to change into a gown; -Keep patients off stretchers unless it is necessary; chairs can be equally effective.