Walmart's Consumer Behavior
by Darryl Johnson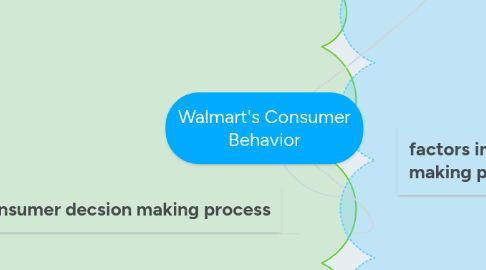 1. Consumer decsion making process
1.1. Need Recognition
1.1.1. when consumers recognize they have an unsatisfied need, and they would like to go from their actual, needy state to a different, desired state
1.1.1.1. Psychological Needs
1.1.1.1.1. pertain to the personal gratification consumers associate with a product and/or service.
1.1.1.2. Functional Needs
1.1.1.2.1. pertain to the performance of a product or service which vary for all products/services
1.2. information search
1.2.1. after a consumer recognizes a need, is to search for information about the various options that exist to satisfy that need.
1.2.1.1. Internal Search for Information
1.2.1.1.1. Walmart's the buyers are more aligned with the thought of the in-store experience. Noted no perks given for Walmart.com to drive traffic.
1.2.1.2. External Search for Information
1.2.1.2.1. Noted majority of customers surveyed/interviewed use Amazon as like a "shopping search engine" Walmart.com is not even a secondary thought.
1.3. Alternative Evaluation
1.3.1. Once a consumer has recognized a problem and explored the possible options, he or she must sift through the choices available and evaluate the alternatives
1.3.1.1. Consumer Decision Rules
1.3.1.1.1. massive selection of quality products,discount, with fast shipping and great, no-nonsense customer service. (Easy,Consistent, Good Price)
1.4. Purchase and Consumption
1.4.1. customers are ready to buy
1.5. Postpurchase
1.5.1. The customers feelings after the purchase
1.5.1.1. customer loyalty
1.5.1.1.1. Based on our findings most are satisfied with their purchase and buy from the same company again.
1.5.1.2. Undesirable Consumer Behavior
1.5.1.2.1. Based on our findings, have a better user experience with Amazon and found to be more favorable in price point which is Walmart primary USP
2. factors influencing the decision making process
2.1. Psychological Factors
2.1.1. Motives
2.1.1.1. Convenience,easy, agile
2.1.2. Attitude
2.1.2.1. Price and time sensitive
2.1.3. Perception
2.1.3.1. Cheap, low end, generic
2.1.4. Learning
2.1.4.1. Varied, store experience and customer interaction can vary due to store, location...etc.
2.1.5. Lifstyle
2.1.5.1. the way consumers spend their time and money to live
2.2. Social Factors
2.2.1. Family
2.2.1.1. Omi channel retailer supports the entire family needs be it services or consumer goods.
2.2.2. Reference groups
2.2.2.1. Genz
2.2.3. Culture
2.2.3.1. Service to the customer Respect for the individual Strive for excellence Act with integrity
2.3. Situational facotrs
2.3.1. purchase situation
2.3.1.1. Online, while leveraging in-store/offline experience
2.3.2. Shopping situation
2.3.2.1. Walmart/online
2.4. Marketing mix
2.4.1. Product
2.4.2. Place
2.4.3. price
2.4.4. promotion
3. involvement and consumer buying process
3.1. High involvement
3.1.1. Greater attention and deeper processing
3.1.1.1. develops strong attitudes and purchase intentions
3.2. Low involvement
3.2.1. Less attention and peripheral processing
3.2.1.1. creates weak attitudes