Wat moet een Pabo-student kunnen op ict-gebied?
by Rowena de Ruijter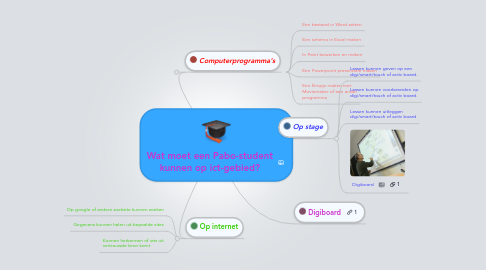 1. Computerprogramma's
1.1. Een bestand in Word zetten
1.2. Een schema in Excel maken
1.3. In Paint bewerken en maken
1.4. Een Powerpoint presentatie maken
1.5. Een filmpje maken met Moviemaker of een ander programma
2. Op internet
2.1. Op google of andere zoeksite kunnen zoeken
2.2. Gegevens kunnen halen uit bepaalde sites
2.3. Kunnen herkennen of iets uit vertrouwde bron komt
3. Op stage
3.1. Lessen kunnen geven op een digi/smart/touch of activ board.
3.2. Lessen kunnen voorbereiden op digi/smart/touch of activ board.
3.3. Lessen kunnen uitleggen digi/smart/touch of activ board
3.4. Digiboard
4. Digiboard