3 Sets of Goals
by Alesandra Lego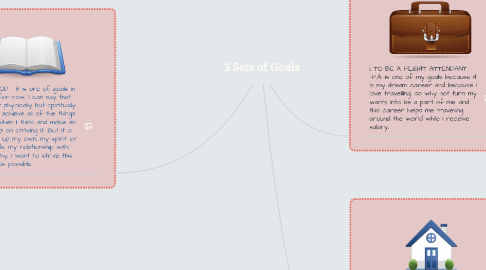 1. 1. TO BE A FLIGHT ATTENDANT -F.A. is one of my goals because it is my dream career and because I love travelling, so why not turn my wants into be a part of me. and this career helps me travelling around the world while I receive salary.
2. 3. TO SEEK GOD - It is one of goals in life because for now, I can say that i'am weak. not physically but spiritually. for me, I can achieve all of the things in this world when I think and make an action to keep on striving it. But it is hard to grow up my own, my spirit or in other words, my relationship with God. that is why, I want to strive this goal as soon as possible.
3. 2. TO HAVE A HOUSE, LOT AND A CAR - it is one of my goals in life because on our situation of life now. Yes, we have our own house but I want to give them, my family, a home that was relaxing, good to their eyes or sight, and give them a beautiful house with its own lot that they can never imagine. As same as to the car. for me, I feel proud to myself when I give to my family a better and relaxing life.