PROFESSIONALISM AT WORK: BUSINESS ETIQUETTE AND ETHICS
by BRYAN BONG ZI HAO Unknown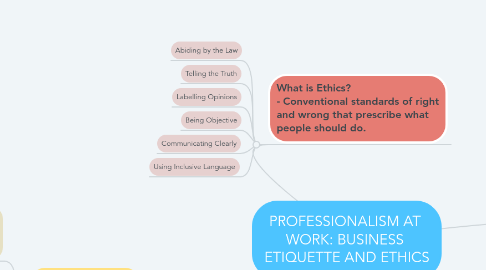 1. What is Ethics? - Conventional standards of right and wrong that prescribe what people should do.
1.1. Abiding by the Law
1.2. Telling the Truth
1.3. Labelling Opinions
1.4. Being Objective
1.5. Communicating Clearly
1.6. Using Inclusive Language
2. Principles of Writing Business Messages
2.1. Verbal Business Messages - Primary mode of passing a message - No need of much structure and strict compliance - Frequently passed on in-order to carry out routine business activities
2.2. Written Business Messages - Used whenever the information being passed on needs to be compiled and filed - Any mistakes that occur in the written business message can become permanent and ge filed - Important to be extremely careful when writing a business message
3. Three-Step Writing Process
3.1. Step 1 - Planning a business message
3.1.1. Ask the following questions - Who is this business message designed for? - What purpose is this business message written for?
3.1.2. Follow the following guidelines - Know your audience - Audience's expectations - Get to the point - Keep it simple - Use active and passive voices aprropriately - Content - Organisation
3.2. Step 2 - Writing a business message
3.2.1. Modifications that need to be considered compared to an ordinary letter - The salutation - Should be justified or in lbock form - Should contain brief and concise information - Check the message for grammar and spelling mistakes - Font size or style should be easy to read
3.3. Step 3 - Completing a business message
3.3.1. Sending the business message - Address of the recipient should be clearly written and double checked the recipients' address
4. Report Writing
4.1. Main purpose of a Report - To help reader understand a situation and make a decision on any action that may be necessry to improve matters
4.2. Step 1 - Determine the purpose / objective
4.3. Step 2 - Collect information
4.4. Step 3 - Evaluate the facts - Organise the material
4.5. Step 4 - Write the frist draft then edit it - Make sure it meets the objectives