Tye Lawson
by Michelle Lawson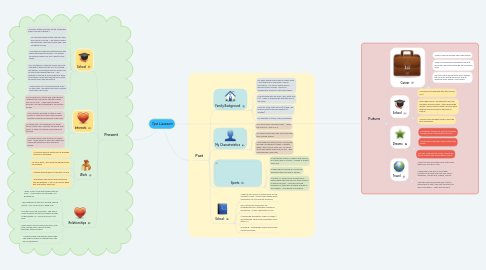 1. Past
1.1. Family Background
1.1.1. My dad's whole family lives in Powell River. I lived there for a year when I was in Pre-school. My mom's family lives in Burnaby and in Florida. We go on vacations to Florida to visit family there.
1.1.2. I live at home with my mom, dad, sister Ava (14). I have 2 dogs Barney and Bella and a cat Molly
1.1.3. I have an older sister Alyssa (27) and I am now an uncle to her son Ashton (22 months)
1.1.4. My ethnicity is Polish, Irish, and English
1.2. My Characteristics
1.2.1. As a small child I was very quiet. I didn't talk much till I was 4 or 5
1.2.2. I've always been really shy and had a hard time making friends.
1.2.3. I was diagnosed with Sensory Processing Disorder and different types of anxiety when I was 4 and 5 years old. So being social has always been hard for me. I get overwhelmed really easy
1.3. Sports
1.3.1. In elementary school I loved to play soccer, but never was on a team. I played at school every day.
1.3.2. In high school in grade 8 I joined the wrestling team and won 2 medals
1.3.3. In grade 10 I joined a ball hockey team. I played again this year and my team made it to the provincials. I was very exciting because our team won a trophy and we all got medals. I play goalie and forward.
1.4. School
1.4.1. I went to pre-school in Powell River on the Sunshine Coast. It was called Powell River Association for Community Inclusion
1.4.2. We moved back to Burnaby for Kindergarten and I attended Glenwood Elementary. It was a hard year for me.
1.4.3. I transferred elementary school in grade 1 and attended Taylor Park Elementary from grade 1-7.
1.4.4. In grade 8 I started high school at Burnaby South Secondary
2. Present
2.1. School
2.1.1. I currently attend Burnaby South Secondary School and am in grade 11
2.1.2. My favourite subjects this year are choir, self-efficacy and PE. I like these classes best because I get good marks and I feel confidant in them.
2.1.3. I am really focusing and putting effort into better attendance this year. My anxiety sometimes takes over and I want to stay home.
2.1.4. I am also taking a catering course this year. I thought it would just be a lot of cooking and eating. We actually have to serve food at events throughout the year. I am starting to sign up to more events to serve at because I found out that we earn marks for every event that we attend.
2.1.5. I really enjoy PE 11 because we get to go on field trips. We have been rock climbing and it was a lot of fun.
2.2. Interests
2.2.1. In my spare time I like to play video games. I usually play first person shooter games like Call of Duty. I really like this game because I am very interested in the military as well
2.2.2. I am currently enrolling to start in Army Cadets in January and am really looking forward to going and learning all the drills.
2.2.3. My family and I go camping in our trailer out at Cultas Lake. We have an annual spot there, so when it's warmer we go there all the time.
2.2.4. I currently have a part-time job at White Spot. I work about 12 hours per week and I really like having my own spending money
2.3. Work
2.3.1. I currently work at White Spot in Burnaby located on Kingsway
2.3.2. My job is host, I also work the delivery/pick up ordering
2.3.3. I started working here in February of 2019
2.3.4. I sometimes like my job and sometimes feel like quitting. A lot of my friends have quit and gotten new jobs.
2.4. Relationships
2.4.1. I have a very close relationship with my mom. She's helped me through a lot growing up
2.4.2. I like hanging out with my dad and playing sports. He's usually fun to hang with
2.4.3. My sister and I get along well. She was in a bad accident last year and spent months in the hospital, so I look out for her a lot now.
2.4.4. I don't have a ton of friends at school, but I really like the ones I hang out with, especially Aidan and Ellie
2.4.5. I currently have a girlfriend named Jada. She goes to school in Langley and I see her on weekends.
3. Future
3.1. Career
3.1.1. I plan to join the military after high school
3.1.2. I plan on serving and completing my post secondary education through the Canadian Army
3.1.3. My first choice would be to be in infantry, but my mom would like me to look at different areas where I could serve
3.2. School
3.2.1. I am hoping to graduate with the class of 2021
3.2.2. After high school I am hoping to join the Canadian Armed Forces. After serving the military I would like to further my education with the Armed Forces to become an Officer
3.2.3. I am still not sure what classes I will take post-secondary
3.3. Dreams
3.3.1. My biggest dream is to join the Canadian Armed Forces in the Infantry division
3.3.2. I would like to be able to buy a really nice house
3.4. Travel
3.4.1. One day long into the future I would like to get married and maybe have a family
3.4.2. I want to travel to England and visit places where my ancestors lived
3.4.3. I would like to be able to visit other countries in Europe and Asia, like Japan, Phillipines, Hong Kong, Greece, France
3.4.4. Later this year we are planning a trip to Disneyland so that I can visit the new Star Wars Land there. I can't wait to see it