Christmas in Great Britain
by Юлия Гапич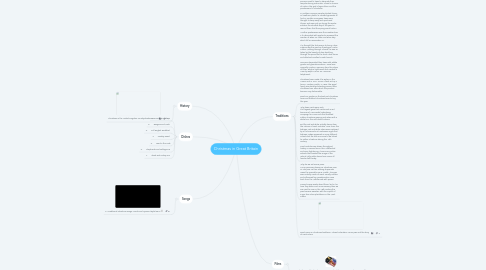 1. Traditions
1.1. Why do we have Christmas trees? Romans used fir trees to decorate their temples during Saturnalia, a feast in honour of Saturn, the god of agriculture, and the predecessor to Christmas. In northern Europe, people planted cherry or hawthorn plants, or created pyramids of fruit or candles. Evergreen trees were thought to keep away evil spirits and illness, and were put up during the winter solstice, the shortest day of the year, to remind them that the spring would return. Another predecessor was the Paradise tree, a fir decorated with apples to represent the Garden of Eden on Adam and Eve's day, which fell on December 24. It is thought the first person to bring a tree indoors was the German theologian Martin Luther. Walking through a forest, he was so taken by the beauty of stars twinkling through the pines that he took a tree home and attached candles to each branch. Germans decorated their trees with edible goods and glass decorations. Tinsel was originally made in Germany from thin strips of silver. Electric lights were first created in 1895 by Ralph Morris, an American telephonist. Christmas trees made it to Britain in the 1830s, and in 1841, Prince Albert set up a tree in Windsor Castle. In 1846, the Royal family was sketched standing around their Christmas tree, after which the practice became very fashionable. Read our guides on the best real Christmas trees and artificial Christmas trees to buy this year.
1.2. Why does Santa wear red? The legend goes that Santa's suit is red because of a successful advertising campaign for Coca-Cola that featured Father Christmas wearing red robes with a white trim, the soft drink's colours. But the red and white actually derive from the colours of Saint Nicholas. Over time, the bishops' red and white robes were replaced by a fur-trimmed suit. Historians argue that bishops' robes appeared in many different colours but the red one came to be linked to Father Christmas during the 19th century. Saint Nicholas was drawn throughout history in various forms: thin, intellectual and even frightening. It was Coca-Cola's adverts that created the image of the rotund, jolly, white-haired man we're all familiar with today.
1.3. Why do we eat mince pies? Mince pies were known as Christmas pies, or crib pies, as their oblong shape was meant to resemble Jesus' cradle. The pies were initially made of meat, usually mutton, and influenced by crusaders who came back from the Middle East with spices. Samuel Pepys wrote about them, but in his time they were much more savoury than we are used to now. In the 18th century the pies became sweeter, with the import of sugar from slave plantations in the West Indies.
1.4. Read more on Christmas traditions: Advent calendars, mince pies and the story of Santa Claus
2. Films
2.1. Our List of Top British Christmas Movies – Best Holidays Movies in Britain
3. History
3.1. Christmas in the United Kingdom on whychristmas?com
4. Dishes
4.1. 1. Fish and Chips
4.2. 2. Bangers and Mash
4.3. 3. Full English Breakfast
4.4. 4. Sunday Roast
4.5. 5. Toad in the Hole
4.6. 6. Shepherd's Pie/Cottage Pie
4.7. 7. Steak and Kidney Pie
5. Songs
5.1. 31 Traditional Christmas Songs, Carols and Hymns Playlist 2019 ⛪