Business Ethics
by Jordan King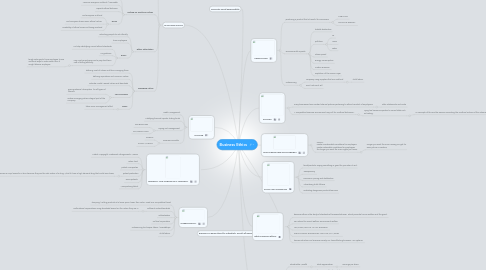 1. FINANCE
1.1. Debt Management
1.2. Falsifying financial reports, hiding funds
1.3. Paying out management
1.3.1. BIG BONUSES
1.3.2. COMPENSATION
1.4. Buisness Scandals
1.4.1. ENRON
1.4.2. STOCK MARKET
2. HUMAN RESOURCE MANAGEMENT
2.1. Unions: create unsustainable conditions for employers create sustainable conditions for employees the longer you work the more rights you have?
2.1.1. Longer you work the more money you get for same job as co worker?
3. SALES AND MARKETING
3.1. food/products, saying something is good for you when it isn't.
3.2. Transparency
3.3. Fairness in pricing and distribution
3.4. Advertising truth-fullness
3.5. marketing dangerous products/services
4. PRODUCTION
4.1. producing a product that is harmful to consumers:
4.1.1. TOBACCO
4.1.2. NUCLEAR ENERGY
4.2. environmental impacts
4.2.1. habitat destruction
4.2.2. pollution
4.2.2.1. air
4.2.2.2. noise
4.2.2.3. water
4.2.3. urban sprawl
4.2.4. Energy Consumption
4.2.5. Carbon Emission
4.2.6. Depletion of the Ozone Layer
4.3. Outsourcing
4.3.1. company using suppliers that are unethical
4.3.1.1. child labour
4.3.2. Dont Ask Dont Tell
5. PROPERTY AND INTELLECTUAL PROPERTY
5.1. Patent, Copyright, Trademark infringements. Misuse
5.2. native land
5.3. patent monopolies
5.4. patent protection
5.4.1. drug companies re coup losses for a time because they are the sole maker of a drug. What if it was a high demand drug that could save lives?
5.5. Gene patents
5.6. Monopolizing talent
6. INTERNATIONAL
6.1. dumping / selling products at a lower price, lower then value. Used as a competitive threat.
6.2. Different codes/Standards
6.2.1. multinational corporations using standards biased on the nation they are in
6.3. Globalization
6.4. Cultural Imperialism
6.5. Outsourcing to cheaper labour / sweatshops
6.6. Child labour
7. POLICIES
7.1. many businesses have created internal policies pertaining to ethical conduct of employees:
7.1.1. Ethic Statements and Code
7.2. A competitive business environment may call for unethical behaviour .
7.2.1. Lying has become expected in some fields such as trading.
7.2.1.1. An example of this are the issues surrounding the unethical actions of the Saloman Brothers.
8. MANAGING ETHICS
8.1. Compliance
8.1.1. Basically compliance with the law
8.1.2. standard of minimum behaviour
8.1.3. write standards stating explicit rules
8.1.4. establish penalties
8.1.5. Most common ethical standard in the US
8.1.6. RISKS
8.1.6.1. may give the impression that you only need minimum behaviour
8.1.6.2. can imply low level employees are target
8.1.6.3. gives no guidance on ethic issues that arise
8.2. Relying on employee values
8.2.1. The employee makes the ethical decisions
8.2.2. Assumes everyone is ethical / honorable
8.2.3. Expects ethical behavior
8.2.4. RISKS
8.2.4.1. Not everyone is ethical
8.2.4.2. Not everyone shares same ethical values
8.2.4.3. Possibility of ethical issues not being resolved
8.3. Ethics exhortation
8.3.1. exhorting people to act ethically
8.3.2. train employees
8.3.3. RISKS
8.3.3.1. no help identifying correct ethical standards
8.3.3.2. no guidance
8.3.3.3. may imply employees are to pay short-term cost of acting ethically
8.3.3.3.1. tough sales goals, force employee to use unethical ways to make sales, then if caught blames employee
8.4. Managing Values
8.4.1. defining a set of values and then managing them
8.4.2. defining aspirations and minimum values
8.4.3. educate model, reward values and standards
8.4.4. ADVANTAGES
8.4.4.1. gives guidance/ description for all types of choices
8.4.4.2. makes managing values integral part of the company
8.4.5. RISKS
8.4.5.1. takes more management effort
9. Business is a game played by individuals, as with all games the object is to win.
10. What is Business Ethics?
10.1. business ethics is the study of standards of business behavior which promote human welfare and the good.
10.2. can extend to animal welfare, environment welfare
10.3. HOW INDIVIDUALS ACT IN BUSINESS
10.4. STRUCTURING BUSINESSES AND THE WAY WORK
10.5. how we structure our business society, our laws affecting business , our systems
11. Corporate Social Responsibility
12. Ethical Dilemmas
12.1. Shareholder Wealth
12.1.1. stock appreciation
12.1.1.1. earnings per share
12.2. Profit Maximization
12.2.1. decrease quality of product
12.2.2. lower wages
12.2.3. outsourcing
12.2.4. minimizing taxes
12.2.4.1. not contributing to counties that allow their business
12.2.5. greed
12.3. Return on Investment
12.3.1. easy to put cost on services but hard to quantify benefits of those said services
12.4. Externalities
12.4.1. financial liabilities that do not appear on the balance sheet/income statement/cash reports
12.4.1.1. waste generated as part of the production process?
12.4.1.1.1. Environmental Damage as result of rapid industrialization
12.5. Fiduciary Responsiblity
12.5.1. acting in the best interest of of the corporation
12.5.1.1. short term financial goals having a long term impact on society / environment