CHAPTER 5: PROCESS-BASED CLT APPROACHES – CONTENT BASED INSTRUCTION AND TASK-BASED INSTRUCTION
by Adriana Leon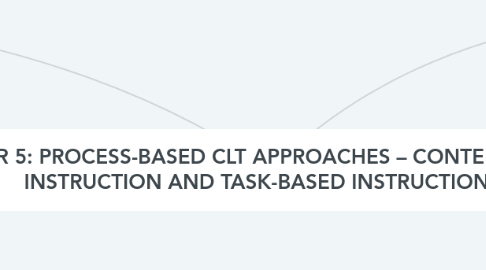 1. CONTENT-BASED INSTRUCTION
1.1. DEFINITION
1.1.1. "the teaching of content or information in the language being learned with little or no direct or explicit effort to teaching the language itself separately from the content being taught"Krahnke (1987:65)
1.2. ASSUMPTIONS
1.2.1. Learning process is a more succesfully process when language is used as a mean of acquiring information
1.2.2. CBI better reflects learners' needs for learning a second languag
1.2.3. The content provides the opportunity to develop all the skills in the language
1.3. USES
1.3.1. CBI can be used for different purposes
1.3.1.1. AS THE FRAMEWORK FOR A UNIT OF WORK
1.3.1.1.1. CBI can be used in company of other kind curriculum to complement that curriculum
1.3.1.2. AS THE GUIDING PRINCIPLE FOR AN ENTIRE COURSE
1.3.1.2.1. It is mostly used in courses where topics are stipulated and through them the four skills are developed
1.3.1.3. AS THE RATIONALE FOR THE USE OF ENGLISH AS MEDIUM TO TEACHING SOME SCHOOL SUBJECTS
1.3.1.3.1. English is used as the language of teaching other subjects
1.3.1.4. AS THE FRAMEWORK FOR COMMERCIAL EFL/ESL MATERIALS
1.4. ISSUES IN IMPLEMENTING A CBI APPROACH
1.4.1. To which extend the skills are developed when a couse is focused in the content of subjects
1.4.2. Teachers have enough knowledge to teach specialized subjects in English?
1.4.3. Are learners assessed taking into account the knowledge in the subject,the language performance or both?
2. TASK-BASED INSTRUCTION
2.1. DEFINITION
2.1.1. " It is methodology that can be regarded as developing from a focus on classroom processes" (p.27)
2.2. ASSUMPTIONS
2.2.1. Language learning works when in the classroom are used interactional activities or processes
2.2.2. Grammar and other elements of the communicative competence can be developed thorugh the engaging in interactive tasks
2.3. TYPES OF TASKS
2.3.1. PEDAGOGICAL TASKS
2.3.1.1. In this tasks are required diferent interaction strategies where are used not only the language skills but also the knowledge about the linguistic elements
2.3.1.1.1. This tasks propose situations that normally don't happen in the real world
2.3.2. REAL WORLD TASKS
2.3.2.1. This tasks are examples of situations of the use of language in the real world
2.3.3. WILLIS(1996) proposed 6 types of tasks
2.3.3.1. LISTING TASKS
2.3.3.2. SORTING AND ORDERING
2.3.3.3. COMPARING
2.3.3.4. PROBLEM-SOLVING
2.3.3.5. SHARING PERSONAL EXPERIENCES
2.3.3.6. CREATIVE TASKS
2.4. SEQUENCE OF TASKS
2.4.1. ≠
2.4.1.1. PPP (presentation-practice-production
2.4.2. Willis proposed the following sequences
2.4.2.1. PRETASK ACTIVITIES
2.4.2.1.1. it introduces the topic and task
2.4.2.2. THE TASK CYCLE
2.4.2.2.1. Task
2.4.2.2.2. Planning
2.4.2.2.3. Report
2.4.2.3. THE LANGUAGE FOCUS
2.4.2.3.1. Analysis
2.4.2.3.2. Practice
2.5. APPLICATION
2.5.1. AS THE SOLE FRAMEWORK FOR COURSE PLANNING AND DELIVERY
2.5.1.1. Was proposed by willis and it refers when a grammar based curriculum is replaced by the task-based ifor a short period of time
2.5.2. AS ONE COMPONENT OF A COURSE
2.5.2.1. It seeks to develop general communication skills
2.5.2.1.1. Points out to the developing of "projects"
2.5.3. AS A TECHNIQUE
2.6. ISSUES
2.6.1. Criteria for selecting and sequencing tasks are problematic
2.6.2. The addressing of classroom processes rather than learning outcomes