Gabriel García Márquez biography
by camilo pulido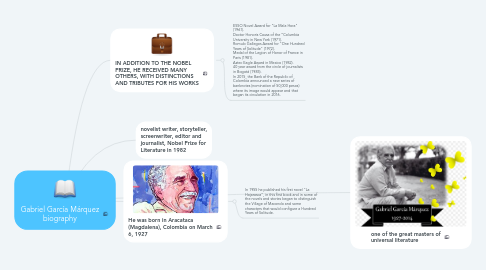 1. one of the great masters of universal literature
2. novelist writer, storyteller, screenwriter, editor and journalist, Nobel Prize for Literature in 1982
3. He was born in Aracataca (Magdalena), Colombia on March 6, 1927
3.1. In 1955 he published his first novel "La Hojarasca", in this first book and in some of the novels and stories began to distinguish the Village of Macondo and some characters that would configure a Hundred Years of Solitude.
4. IN ADDITION TO THE NOBEL PRIZE, HE RECEIVED MANY OTHERS, WITH DISTINCTIONS AND TRIBUTES FOR HIS WORKS
4.1. ESSO Novel Award for "La Mala Hora" (1961). Doctor Honoris Causa of the "Columbia University in New York (1971). Romulo Gallegos Award for "One Hundred Years of Solitude" (1972). Medal of the Legion of Honor of France in Paris (1981). Aztec Eagle Award in Mexico (1982). 40 year award from the circle of journalists in Bogotá (1985). In 2015, the Bank of the Republic of Colombia announced a new series of banknotes (nomination of 50,000 pesos) where its image would appear and that began its circulation in 2016.