Regulatory Affairs
by Heeba Shaikh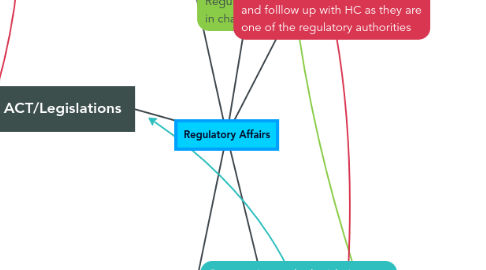 1. Regulatory Affairs Professional
1.1. A link between Employer, product and regulatory bodies
1.1.1. MAIN JOB is to ensure company products comply with regulations
1.1.1.1. For example: Regulations and guidelines under food and drugs act WHICH is administered by HEALTH CANADA (regulatory authority)
1.1.1.2. CONNECTION BETWEEN COMPANY AND REGULATIONS OF HEALTH CANADA
1.1.2. Strategic partners within the organization
1.1.2.1. Provide solutions to the company
1.1.2.2. help company navigate through regulatory obstacle
1.1.2.3. advisors to help meet business objectives
1.2. receives input from variety of STAKEHOLDERS
1.3. Can work in government agencies, and pharmaceutical/health care industries mentioned below
1.3.1. Prepares submissions for regulatory Approval
2. Health Canada
2.1. Administers the Food & Drugs Act
2.2. regulate manufacture, importation, and sale of pharmaceuticals
2.3. ensure quality, safety, and efficacy of drugs/products
2.3.1. Does this throughout life cycle of a drug
2.3.1.1. Looks at clinical trials and testing of drug
2.3.1.2. applications for special access
2.3.1.3. authorization and review submission to sell drugs in Canada
2.3.1.4. Post Market Surveillance: Monitor safety and effectiveness of drugs in real world after they are available in the market
2.4. Has relationships with international regulators
2.4.1. Ex: ICH (International council for Harmonization)
2.4.1.1. Health Canada Member of ICH
2.4.1.2. Develops guidelines to make sure drugs are safe, effective and high quality
2.4.1.3. Connects regulatory authorities & Pharmaceutical industry for drug registration
2.4.1.4. Brings together regulatory authorities such as: FDA, HC, PMDA, & EMA
2.4.1.4.1. Ensure safety, eficacy, quality, multidisciplinary
2.4.1.4.2. Global harmonization
3. ACT/Legislations
3.1. Ex: Food & Drug Act
3.1.1. Drug Regulations
3.1.2. Prohibits manufacture, preparation, preservation, storage and sale of foods, drugs or cosmetics under unsanitary conditions
3.2. Have Regulations
3.2.1. Regulations under the Act
3.2.2. Food Regulations
3.2.3. Cosmetics Regulations
3.2.4. Drug Regulations
3.2.5. Medical Device Regulations
3.3. Guidelines
3.3.1. Beneath the regulations
3.3.2. How RA can comply with the rules
4. Important for Many Pharmaceutical and Health Care Industry
4.1. Phamaceutical & Health Care Industry use the drugs, medical devices, and other products regulated by RA Professionals
4.2. WHO ?
4.2.1. Hospitals
4.2.2. Clinics
4.2.3. Pharmaceuticals generic companies
4.2.4. Pharmaceuticals innovative companies
4.2.5. Medical Device Companies
4.2.6. Pharmacies
4.2.7. Biotechnology Companies
4.3. Canada's Pharmaceutical Industry
4.3.1. Apotex
4.3.2. Johnson & Johnson
4.3.3. Roche
5. Companies ex: Pharmaceutical company
5.1. Markets a Drug in Canada
5.1.1. Files application for new drug submission
5.1.2. Drug submission contains clinical trial information, and scientific testing of drug in labs and animals
5.1.3. Drug submission review goes to Health Canada
5.1.3.1. reviewed by scientific and medical professionals
5.1.3.2. evaluate safety and effectiveness
5.1.3.3. Information also gets passed onto healthcare practitioners and consumers of drug
5.1.3.4. HEALTH CANADA may approve or reject the drug after reviewing drug submission
5.2. STRUCTURE AND ORGANIZATION
5.2.1. Regulatory Affairs
5.2.2. BUT also contains other departments that they interact with on a daily basis
5.2.2.1. ex: Medical Affairs, Pharmacovigilance, Quality, Marketing, communications, human resources, supply chain
5.2.2.2. Very important to have a communication strategy for these stakeholders within the organization
5.2.2.3. Communication in the form of verbal, non-verbal
5.2.2.3.1. Looking through data, providing regulatory solutions, and communicating with different levels of RA Professionals
5.2.3. Required to communicate within the company and the different structures
6. Communication
6.1. Follow most recent updates/ trends that could impact the organization and share this information
6.2. MOST important part of the job is to have proactive communication
6.2.1. Communication Within Organization
6.2.1.1. Communicate to other dept within the company. ex: sales, marketing and other internal partners using regulatory knowledge
6.2.1.2. Communicaton can be verbal or non verbal
6.2.1.2.1. Through emails, meetings, or conferences
6.2.1.3. Structure
6.2.2. Communication with Regulatory authorities
6.2.2.1. Link between employer and regulatory authorites such as Health Canada, FDA, etc.
6.2.2.1.1. Important to communicate with regulatory authorities to facilitate drug development
6.2.2.1.2. MOSTLY WRITTEN COMMUNICATION: regarding pre-submission strategies, compliance, or follow up of submission under review
6.2.3. Communication with internal and external Stakeholders
6.2.3.1. negotiating with regulatory authorities
6.2.3.2. Need strong communication skills, verbal and non-verbal such as body language, eye contact.
6.2.3.3. effective communication strategy to share with stakeholders to implement relevant changes to compliance
6.2.3.3.1. Provide them in written the new changes in legislation, regulation, guidance documents
6.2.3.3.2. Provide Regulatory Guidance
6.2.4. Communication to Audience
6.2.4.1. Social Communication
6.2.4.1.1. This is a way of companies to market their product using social media
6.2.4.1.2. Not a face to face communication but putting a message across to a larger audience. Non- verbal communication
6.2.4.2. Wider communication
6.2.4.2.1. Newspaper , emails, alerts
6.2.4.2.2. Post market : monitor new drug developments and communicate the reponses/ or impact to business