Teaching with Technology in General Education
by Amy Patterson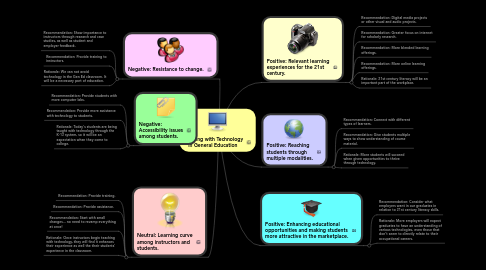 1. Neutral: Learning curve among instructors and students.
1.1. Recommendation: Provide training.
1.2. Recommendation: Provide assistance.
1.3. Recommendation: Start with small changes... no need to revamp everything at once!
1.4. Rationale: Once instructors begin teaching with technology, they will find it enhances their experience as well the their students' experience in the classroom.
2. Negative: Accessibility issues among students.
2.1. Recommendation: Provide students with more computer labs.
2.2. Recommendation: Provide more assistance with technology to students.
2.3. Rationale: Today's students are being taught with technology through the K-12 system, so it will be an expectation when they come to college.
3. Positive: Enhancing educational opportunities and making students more attractive in the marketplace.
3.1. Recommendation: Consider what employers want in our graduates in relation to 21st century literacy skills.
3.2. Rationale: More employers will expect graduates to have an understanding of various technologies, even those that don't seem to directly relate to their occupational careers.
4. Negative: Resistance to change.
4.1. Recommendation: Show importance to instructors through research and case studies, as well as student and employer feedback.
4.2. Recommendation: Provide training to instructors.
4.3. Rationale: We can not avoid technology in the Gen Ed classroom. It will be a necessary part of education.
5. Positive: Relevant learning experiences for the 21st century.
5.1. Recommendation: Digital media projects or other visual and audio projects.
5.2. Recommendation: Greater focus on internet for scholarly research.
5.3. Recommendation: More blended learning offerings.
5.4. Recommendation: More online learning offerings.
5.5. Rationale: 21st century literacy will be an important part of the workplace.
6. Positive: Reaching students through multiple modalities.
6.1. Recommendation: Connect with different types of learners.
6.2. Recommendation: Give students multiple ways to show understanding of course material.
6.3. Rationale: More students will succeed when given opportunities to thrive through technology.