Catulpa Community Support Services
by Jennifer Nelson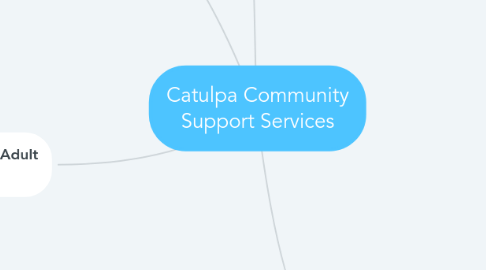 1. Visions and Goals
1.1. Mission
1.1.1. "Improving the lives of people with special or unique needs by engaging and advocating for essential community services and supports."
1.2. Vision
1.2.1. "Our vision for the future encompasses a community where the people we serve are recognized and valued as contributing members of their community and are fully integrated into the activities of their communities. They have a variety of meaningful relationships, hopes, and dreams for the future."
1.3. Values
2. Services and Programs for Children and Youth
2.1. CHILDREN'S RESPITE SERVICES
2.1.1. Works with families to provide temporary relief from demands of caring for child under the age of 18. Provided for children who have a developmental diability and/or physical disability.
2.1.2. No referral is needed; just apply for the programming using application form. New applications are accepted on an ongoing basis.
2.2. COMMUNITY ACTION PROGRAM FOR CHILDREN (CAPC)
2.2.1. A no-fee program for low-income families with children under 6 years old
2.2.2. Wide variety of programs e.g. nutrition, health, parenting support, education support, newcomers' support, etc.
2.2.3. No referral necessary.
2.3. REGIONAL COMPLEX CARE SERVICES
2.3.1. Services for families with child <=18 years requiring long term care and/or day-to-day supports but have exhausted local resources and done a Service Resolution Process.
2.3.2. Referral is though the Regional Service Resolution Process only.
2.4. TRANSITIONAL AGED YOUTH COORDINATION
2.4.1. For youth 14 or + within Extended Society Care or Children's Complex Care.
2.4.2. Helps youth approaching age of transition to adult services and develops an individualized transition plan. These could be financial, family, health, schooling, etc.
2.4.3. Referral through the Child in Care Worker or a Regional Complex Care Case Manager only.
2.5. FAMILY RESOURCE SERVICES
2.5.1. Works with families who have a school aged (up to 18 years old) with a developmental disability (IQ <70) and/or physical disability.
2.5.2. Referrals can come from you, family, or a professional. All referrals require confirmation of diagnosis from a medical professional.
2.5.3. Helps you with developing an ISP. helping student transition from school or adult services, etc.
2.6. INTENSIVE SERVICE COORDINATION SERVICES
2.6.1. Support for children and youth whose needs go beyond local system and where all community options have been exhausted.
2.6.2. Referrals from service providers or may directly request if child/youth has 2+ diagnosed special needs requiring coordination from more than 1 support service.
2.7. ONTARIO AUTISM PROGRAM FAMILY SERVICE COORDINATION
2.7.1. For children and youth (<=18 years old) with a diagnosis of ASD. Specific services are based on the individual child/youth's need. The service plan is developed with a clinical assessment.
2.7.2. Actually is the Single Point of Access for several counties/regions such as: Durham Region, Haliburton, Kawartha Lakes, Peterborough, Northumberland, Simcoe County and York Region
2.7.3. It is managed by Kinark Child and Family Services.
2.7.4. Families can self-refer or be referred by a service professional.
2.8. Child and Youth Services. Click for More Info.
3. How this Agency Supports Marginalized Communities
3.1. Some of the programs are for low-income families and other individuals who are marginalized and often "fall through the cracks". For example, the Mothercare program helps new mothers who are low-income to provide pre-natal and natal care. The Community Care service supports low income families and even has specific supports for newcomers. The majority of the services are for child, youth, and/or adults (and their families) who have a developmental disability and/or physical disability.
4. Programs and Services for Adult and Families
4.1. MOTHERCARE PRENATAL PROGRAM
4.1.1. Provides support to women who are pregnant or with babies up to 8 weeks and who are low income or receiving social assistance.
4.1.2. No referral needed.
4.2. Adult Services. Click for More Info.