On Page SEO
by Pro Mode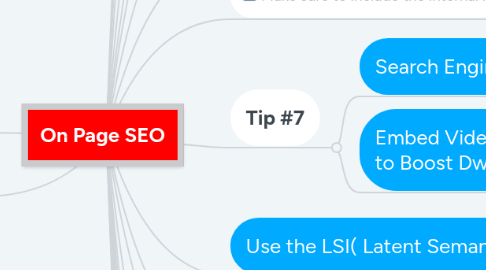 1. Drop Your Keyword in First 100 Words - Brain Dean Method.
1.1. Make sure to include the Main keyword in Starting of the Introduction under 100 words
2. Post Category - Create Category related to the Topic e.g /seo/onpage-seo/
3. Add Meta Description with Keyword and Hook(interesting description that makes person to click)
4. Mobile Friendly Websites are Key to Rank High
5. URL Slug - Make sure its Clear and short .eg <domain.com/onpage-seo/ for on page SEO tutorial.
6. Keep the Sentence Short Maximum 20 words per paragraph.
7. Use the LSI( Latent Semantic Indexing) Keywords in post.
7.1. Use LSIgraph.com to find the Related LSI keywords and sprinkle them in content naturally.
8. Make sure to include the internal links with clear and meaningful anchor text and relevant to the post
9. Make sure your Page loads under 1.5 seconds
10. Focus on Sharing Facebook, Pinterest and Twitter
11. Improve Technical SEO
11.1. Check URL sitemap and submit to Google search console.
11.2. Make sure Blog is on HTTPS
11.3. Include and verify Meta description
12. Make Sure to check the Meta Tags for the articles
13. Tip #1
13.1. Target Keyword in Right Place
13.1.1. Review
13.1.1.1. Search Engine love Mobile Friendly websites. Make sure you use the Mobile Friendly Theme like Generapress
13.1.1.2. Compress the Images - Search Engine Love Small Images(due to reduced pageload time).
14. Tip #2
14.1. Optimize Images - SEO
14.1.1. Include the Keyword in Subheading at least one of the Sub heading h2 tag
14.1.2. Alt Tag - Add the Alt tag with name picture if possible add keyword along with it. (don't overfill with keywords)
14.1.3. Caption - Include the Keywords or meaningful caption which resonate with the Image
14.1.4. Image Description - Add images description which contain keywords and alternate LSI words
15. Tip #3
15.1. Outbound Link to Authority Sites
15.1.1. Don't Include Spam links or Non authoritative links to content.
15.1.2. Use NoFollow Links if you don't want the Link juice to outflow.
15.1.2.1. Linking to High Authority Site on Content or Blog is important They provide High Relevancy and help Search engine to get the idea about Content topic
15.1.3. Use the New tab option or target = '_blank' so that people can continue reading your blog or website.
16. Tip #4
17. Tip #5
17.1. Inbound Links or Internal Linking
17.1.1. Use the New tab option even if you are internal linking your siate.
18. Tip #6
19. Tip #7
19.1. Search Engine Love Fast Pages
19.1.1. Use Tools like GTMetrix, pingdom to get the errors or problems
19.2. Embed Videos , Animation and Info-graphic to Boost Dwell Time
19.2.1. Include Supporting Videos. images and animations
19.2.2. Use Info-graphics to share and give clear view about Topic
20. Tip #8
21. Tip #9
22. Tip #10
23. Tip #11
23.1. Improve Social Sharing Signals
23.1.1. Use Plugins to increase the Social Share e.g Social Pug.
24. Tip #12
24.1. Write Long Content
24.1.1. Recommended Content Length is 2000 Words
24.1.2. Article Length 3000 words is Good sign.
24.1.3. 5000 Word in Depth article is super awesome and Search engine loves them
25. Tip #13
25.1. Use the Content Guidelines
25.1.1. Break the Paragraph
25.1.2. Use the easy words and No jargon words
26. 13 Important Tips for on Page Seo That You Can't Miss