Media and Information
by jebecena abarquez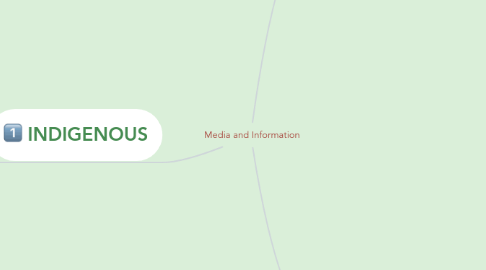 1. INDIGENOUS
1.1. IGOROT TRIBES
1.1.1. The Igorots, which comprises numerous tribes in the northern part of the country, are mostly residing in the mountain ranges of the Cordillera Region. They are popularly known for being rice cultivators. An assortment of the group called the Ifugaos built the Banaue Rice Terraces – frequently called the 'eighth wonder of the world'. The ancestors of this indigenous tribe carved a system of irrigated rice terraces in the mountains of Ifugao more than 2,000 years ago.
1.2. LUMAD TRIBES
1.2.1. Meanwhile, in the southern part of the country, indigenous tribes are mostly found in Mindanao and Western Visayas. In Mindanao, these existing non-Muslim indigenous groups are collectively known as the Lumad – a Cebuano term which means 'native' or 'indigenous'. There Lumad tribes comprise about 13 ethnic groups which are the Blaan, Bukidnon, Higaonon, Mamanwa, Mandaya, Manobo, Mansaka, Sangir, Subanen, Tagabawa, Tagakaulo, Tasaday, and T'boli. Their tribe is generally known for tribal music produced by musical instruments they've created.
1.3. MANGYAN
1.3.1. The Mangyans of Mindoro are well-known clans in the Philippines because they have the biggest populace. Comprising eight different Mangyan groups, they have a peaceful reputation, unlike the headhunting tribes of the North and warrior tribes from the South. While some has already converted into Christianity, there's still a large percentage of those who practice animistic religious beliefs.
1.4. AYTA, AETA, AGTA
1.4.1. The Aetas (or Agta or Ayta) are one of the earliest known inhabitnats of the Philippines who are now living in scattered mountainous areas of the country. They were called by the Spanish colonizers as the 'Negritos' because of their dark to dark-brown skin. They are nomadic but are very skilled in weaving and plaiting, and Aeta women are considered experts in herbal medicine.
1.5. ATI AND TUMANDOK
1.5.1. One of the few clans in Visayas, the Ati and Tumandok tribes of Panay Island are the first to call the island their home. Genetically related to other indigenous groups in the country, they mostly resemble the Aetas or Negritos who are characterised by their dark skin. While some adopted Western religions, they still carry some animistic beliefs and rituals passed down by their ancestors.
1.6. BADJAOS
1.6.1. Originally from the islands of Sulu in Mindanao, they're known as the sea tribes living on houseboats. They try to make ends meet by depending on the sea as divers, fishermen, and navigators. Because of conflicts in the region, the majority of them has migrated to neighboring countries such as Malaysia and Indonesia, whereas those who stayed in the Philippines moved to some areas in Luzon.
1.7. PALAWAN TRIBES
1.7.1. Palawan is also home to various tribes such as the Batak, Palaweño, Palawano, and the Tagbanwa. Mostly living in mountains or lowland dwellings, some of these groups have also been included in the large Manobo tribe of the South. They have not totally embraced urban living, with the majority living in more rural settings.
2. LIBRARY
2.1. NEWSPAPER
2.1.1. a printed publication (usually issued daily or weekly) consisting of folded unstapled sheets and containing news, feature articles, advertisements, and correspondence.
2.2. MAGAZINES
2.2.1. a periodical publication containing articles and illustrations, typically covering a particular subject or area of interest.
2.3. BOOKS
2.3.1. a written or printed work consisting of pages glued or sewn together along one side and bound in covers.
2.4. WIKIPEDIA
2.4.1. A definition is a statement of the meaning of a term (a word, phrase, or other set of symbols). Definitions can be classified into two large categories, intensional definitions (which try to give the sense of a term) and extensional definitions (which proceed by listing the objects that a term describes). Another important category of definitions is the class of ostensive definitions, which convey the meaning of a term by pointing out examples. A term may have many different senses and multiple meanings, and thus require multiple definitions.
3. INTERNET
3.1. GOOGLE
3.1.1. Google Chrome (commonly known simply as Chrome) is a cross-platform web browser developed by Google. It was first released in 2008 for Microsoft Windows, and was later ported to Linux, macOS, iOS, and Android. The browser is also the main component of Chrome OS, where it serves as the platform for web apps.
3.2. FACEBOOK
3.2.1. The Facebook service can be accessed from devices with Internet connectivity, such as personal computers, tablets and smartphones. After registering, users can create a customized profile revealing information about themselves. They can post text, photos and multimedia which is shared with any other users that have agreed to be their "friend". Users can also use various embedded apps, join common-interest groups, and receive notifications of their friends' activities. Facebook claimed that had more than 2.3 billion monthly active users as of December 2018.
3.3. TWITTER
3.3.1. Twitter members can broadcast tweets and follow other users' tweets by using multiple platforms and devices. Tweets and replies to tweets can be sent by cell phone text message, desktop client or by posting at the Twitter.com website.
3.4. YOUTUBE
3.4.1. YouTube is a popular video sharing website where registered users can upload and share videos with anyone able to access the site. These videos can also be embedded and shared on other sites. YouTube was developed by former PayPal employees in 2005 and was acquired by Google in 2006. It has had a profound impact on media and advertising.