WEB 2.0 TOOL'S
by nishel persad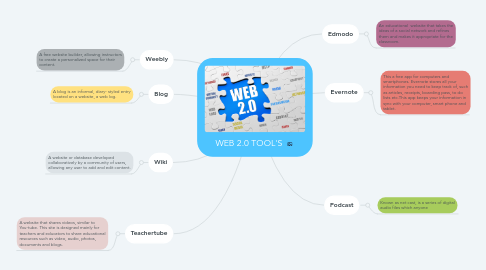 1. Edmodo
1.1. An educational website that takes the ideas of a social network and refines them and makes it appropriate for the classroom.
2. Evernote
2.1. This a free app for computers and smartphones. Evernote stores all your information you need to keep track of, such as articles, receipts, boarding pass, to do lists etc.This app keeps your information in sync with your computer, smart phone and tablet.
3. Weebly
3.1. A free website builder, allowing instructors to create a personalized space for their content.
4. Blog
4.1. A blog is an informal, diary- styled entry located on a website, a web log.
5. Wiki
5.1. A website or database developed collaboratively by a community of users, allowing any user to add and edit content.
6. Podcast
6.1. Known as net cast, is a series of digital audio files which anyone
7. Teachertube
7.1. A website that shares videos, similar to You-tube. This site is designed mainly for teachers and educators to share educational resources such as video, audio, photos, documents and blogs.