How to teach English: Chapter 4. How to describe Learning and teaching.
by Farfan Alvarez Tania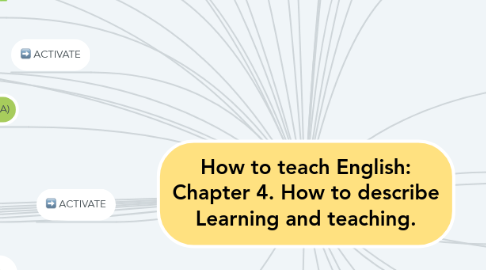 1. What teaching models have influenced current teaching practice?
2. What elements are necessary for successful language learning in classrooms?
3. The children can learn a language without to be in a classroom but they need to be exposed to the language, it means to develop the language in the environment where they are living.
4. The adult people can learn a language without studying too, we used to think that they have problems when they have to learn a language but we are wrong, they can to learn it too if they are exposed to the language
5. One type of teaching sequence takes students in a straight line: Fist the teacher gets the class interested anda engaged, then they study something and they then try to activate it by putting it into production.
6. How do the three elements of ESA fit together in lessons sequences?
7. Teachers and students can interact in order to learn each other
8. The student is able to use the language in a real context, that means do not militated only in the basic rules of language
9. PATCHWORK SEQUENCE (EAASASEA)
10. ENGAGE
11. STUDY
12. ACTIVATE
13. BOOMERANG SEQUENCE (EAS(A)
14. The element which the teacher try to motivate their students
15. activate:
16. Engage
17. Study
18. What do we know about language learning?
19. we can represent this kind of lesson in the following way
20. STRAIGHT ARROW SEQUENCE (ESA)
21. ENGAGE
22. STUDY
23. ACTIVATE
24. ACTIVATE
25. ENGAGE
26. Grammar-Translation:
27. The most common model because the learners can compare their own language with the English.
28. Audio-Lingualism:
29. The traditional model of repetition where the teacher hopes that his students learn from this method
30. PPP
31. Similar to the straight arrows explained above (Presentation, Practice and Production).
32. Task-Based Learning
33. Here the student might realize some activities who let to complete tasks in order to learn in another way
34. Communicative language teaching
35. This was radical departure from the PPP-type lessons which had tended to dominate language teaching
36. Elements necessary to learn language in the real word: exposure, motivation and use
37. Described three different lesson sequences which contain the engage, study and activate elements. in straight arrows lessons, the order is E-S-A, but in boomerang lessons, teachers may move straight from a engage stage to an activate stage. study can then be based on how well students performed (E-A-S). patchwork classes mix the three elements in various different sequences (E-A-A-S-A-S-E-A).
38. ACTIVATE
39. ACTIVATE
40. STUDY
41. ACTIVATE
42. STUDY
43. ENGAGE
44. ACTIVATE