Governance in the UK
by Ella Thompson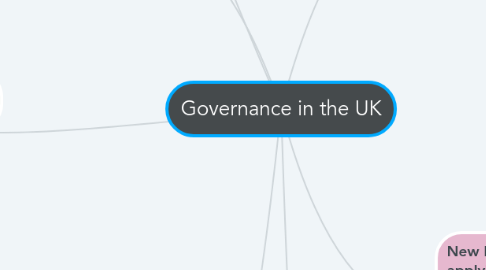 1. Weberian Bureacracy = bureaucracy ensures systematic organisation is efficient and economically effective
1.1. Hierarchical structure underpinned by legal forms of authority
1.2. John Stuart Mills - civil service necessary so long as ultimate control with Parliament
2. New Public Management = applying techniques from private sector to public administration
2.1. Mid 1980's replaced old bureaucratic structures with market-based regimes/business-like elements
2.1.1. Aims of NPM
2.1.1.1. Efficiency
2.1.1.2. Streamlining
2.1.1.3. Managerialism to increase professionalism
2.1.1.4. Target setting
2.2. Methods of NPM
2.2.1. Privatisation
2.2.2. Compulsory Competitive Tendering
2.2.3. Public Private Partnerships
2.2.4. Private Finance Initiatives
2.2.5. Internal Markets
2.2.6. Analysis of NPM
2.2.6.1. Economic model of citizen/state relationship
2.2.6.2. State (provider) services to citizen (consumer) in exchange for taxes
2.3. Advantages
2.3.1. More efficient
2.3.2. Re-establishes connection between citizen and state
2.3.3. Could lead to more transparent and accountable government
2.4. Disadvantages
2.4.1. Centralisation
2.4.2. Audit culture
2.4.3. Prioritising financial accountability over political accountability
2.4.4. Is the citizen a consumer?
3. Traditional Civil Service
3.1. Pre-1854 appointed on political support not merit
3.2. Northcote-Trevelyan Report 1853
3.2.1. New civil service promote professionalism
3.2.2. Unification guaranteed common standards
3.3. Previously organised via prerogative powers
3.3.1. GCHQ Case - made prerogative powers subject to judicial review
3.3.2. 'Queen and her servants'
3.4. Civil Service Code
3.4.1. Integrity, honesty, objectivity, impartiality
3.5. Constitutional Reform and Governance Act 2010
3.5.1. Statutory source influences appointment of Civil Service
4. Changes in the Civil Service
4.1. 1988 Efficiency Unit Report introduced Quangos
4.1.1. Private sector elements in public sector for administrative functions
4.1.2. Separate from government departments
4.1.3. Head is Chief Executive
4.1.4. Have frame work doocument with targets
5. Executive Agencies and Ministerial Responsibility
5.1. Carltona v Commissioner of Works - 'Carltona Principle'
5.1.1. Ministers can delegate powers to agents to act on their behalf
5.2. Who is to blame when things go wrong?
5.2.1. Issue of escapism from prisons
5.2.1.1. Minister
5.2.1.2. Chief Executive of Prison Agency
5.2.2. Contradicts John Stuart Mills' idea Parliament has ultimate control
5.3. Executive agencies remain under influence of Parliamentary Select Committees, National Audit Office, Parliamentary Ombudsman
6. Big Society
6.1. Encourages people to take active role in communities
6.1.1. Transfer powers from central to local government
6.1.2. Supports co-operatives/charities
6.1.3. Public government data
6.2. Advantages
6.2.1. More active role for citizens
6.2.2. Empowerment of grassroots solutions
6.3. Disadvantages
6.3.1. Limits government responsibility and accountability
6.3.2. Cheaper as opposed to better
7. Accountability of the Modern Executive
7.1. Legal accountability (judicial review)
7.1.1. Courts look at legality of decision, not quality
7.1.2. Any person exercising government powers can be subject
7.1.3. Redresses grievances and provides accountability
7.1.3.1. Ensures power not used contradicting rules agreed by Parliament
7.2. Political accountability
7.2.1. Parliamentary scrutiny
7.2.2. Debate
7.2.3. Parliamentary questions
7.2.4. Select committees
7.2.4.1. One for each governmental department
7.2.4.2. Enables in-depth, systematic enquiries
7.3. Quasi-judicial accountability
7.3.1. Ombudsdman
7.3.1.1. Independent officer responsible to legislature
7.3.1.2. Investigates citizens complaints against government departments/agencies
7.3.1.2.1. No power to investigate action which can be remedied by judicial proceedings
7.3.1.2.2. Citizens approach Ombudsman via MP
7.3.1.2.3. Reccommendations not binding but usually implemented
7.3.1.3. Created by Parliamentary Commissioner Act 1967
7.3.1.3.1. S5(1) investigates 'complaints of injustice sustained in maladministration'
7.3.2. Public enquiries
7.3.2.1. Investigation of disaster/scandal to find out reasons and possible responsibility
7.3.2.1.1. Based on Inquiries Act or non-statutory inquiry
7.3.2.2. Advantages
7.3.2.2.1. In depth investigation
7.3.2.3. Disadvantages
7.3.2.3.1. Specific terms of reference
7.3.2.3.2. Allegations of white washing