Web 2.0 Tools in the Foreign Language Class
by Lisa Reissig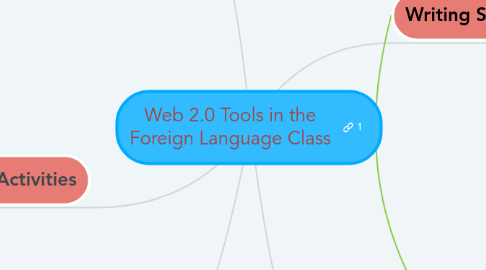 1. Writing Skills
1.1. Storybird- Students write stories based on self-selected illustrations encouraging creativity and critical thinking. Students can post and read other stories.
1.1.1. This can be used for all language levels and adjusted accordingly. French I could write a short story using descriptive words and hobbies. Upper levels could write an original story based on a prompt.
1.2. Vyond (formerly GoAnimate)- Students create cartoon animations that tell a story. They are able to do a voice over speak for the characters.
1.2.1. Similar to Storybird this can be adjusted for all levels. This is especially good for dialogues. Students could collaborate for the parts. This would be great for a café dialogue between server and customer.
1.3. Piktochart-A template-driven way to make infograhpics.
1.3.1. This offers a great way to condense important information into one chart with words and pictures. It could be used to compare/contrast a target country topic, e.g. food, travel to US.
2. Speaking Skills
2.1. Anchor-Students can create their own podcast.
2.1.1. This tool is a little more involved than some of the others so I'd probably use it for upper levels. It would be great for interviewing a famous French artist or a travel podcast about a francophone city.
2.2. GoogleVoice- Students use a number to call and record a voice message. Messages can also be played for all to hear.
2.2.1. This would be great for the teacher to give a question and students record an answer to practice pronunciation and fluency. In French III, after reading a humorous story, students call and leave a message to the part they found to be the funniest.
2.3. VoiceThread- Students can create an online media album with images, videos or documents. They can be narrated to practice their speaking skills.
2.3.1. This tool can be used in a variety of ways. I'd love to personalize it for each unit. For example, in French II after the vacation unit with the past tense, students tell where they went on their vacation.
3. Sharing and Collaborating
3.1. SeeSaw- A platform for student engagement. Students can post their work (photos, videos, text) and comment on classmates' work. Parents can as well.
3.1.1. This tool would be especially helpful in an online environment such as mine where students post work and comment. The vacation sob story contest assignment would be great with seesaw.
3.2. Padlet- An online bulletin board. Posts can be made or pictures posted and students can post to the teacher and each other.
3.2.1. Teacher could post a picture and students each write what's happening (could be done in real-time). A question could be asked especially conditionals and students answer. Students could do a project in Padlet e.g. monument in Paris and post in Padlet.
4. Content Organization
4.1. Symbaloo- This provides a way to easily and effectively organize weblinks on one page with buttons.
4.1.1. Each unit could have its own Symbaloo page that organizes links by category (review, listening, reading, videos) that make it accessible for the student.
4.2. Mindmeister- An online mind-mapping tools where users can organize material
4.2.1. Countless ideas for use for this one. Students could map vocabulary for a unit (nouns, verbs, expressions) or end of the year review with different topics. Much more effective than traditional lists.
5. Review Activities
5.1. JeopardyLabs- An online jeopardy board template. Teacher/Student an create an original game or search for some already made games by topic
5.1.1. A great way to review topics.- vocabulary, grammar -regular verbs, irregular verbs, verb tenses, translations, answering and asking questions. Games are engaging. Students can also be asked to create their own games.
5.2. Quia- Teachers can create their own games, surveys and review activities. Access by textbook is available for even more practice. Teachers can tract student involvement.
5.2.1. A fun engaging way to review concepts e..g. past tense with avoir or être or vocabulary