Online multi brand store specializing on luxury lingerie - dissou
by Flora Stein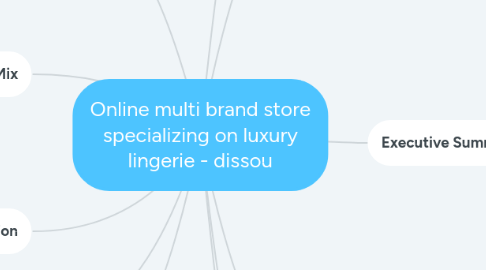 1. Value Proposition
1.1. dissou offers an affluent and strong global luxury lingerie market place with a high customer experience
1.2. Monitization
1.2.1. dissou provides the marketplace and takes a 15%-25% commission on every purchase. The shopper pays a shipping fee depending on the size and weight of the order.
1.3. Delivery
1.3.1. Simple marketplace where shoppers are linked to boutiques who sell them. Shoppers can filter by color, size, product type and then directly purchase the product over the Internet using Paypal or credit card. As well as its website, the company has iPhone and Android apps through which customers can access the boutique vendors.
1.4. Modular end-to-end technology platform purpose built to connect the luxury lingerie ecosystem worldwide. Platform is built on an API-enabled proprietary technology stack, which provides the foundation for the three main components: applications, services and data
1.5. Values:
2. Executive Summary
2.1. We operate the only truly global luxury digital marketplace at scale where lovers of lingerie anywhere in the world can shop for an remarkable range of incredible lingerie products from the world's best brands and emerging boutique.
2.2. Assets
2.2.1. a large and growing market, a highly differentiated model, significant barriers to entry, a win-win proposition for both sides of the marketplace (customers and boutiques/brands), an attractive financial model (strong unit economics, no inventory, working capital) and essentially a remarkable leader with a strong team
3. CRM
3.1. delivery options including same-day delivery in 18 major global cities and F90 store to door in 90 minutes in cities such as Milan, Berlin and Paris
3.2. 24/7 multi lingual customer support
3.3. website in 9 local languages
4. Customer Segments
4.1. Luxury online shoppers
4.1.1. mature women aged 26 till 40 yrs, high income
4.1.1.1. Affluent consumers who buy fashionable clothes but have few places to shop locally.
4.1.1.2. career driven adolescence
4.1.2. Millenials aged 20 to 25
4.1.2.1. young adults
4.1.2.2. appearance driven market
4.1.2.2.1. digital first mindset
4.2. Established and emerging lingerie brands
4.2.1. Small lingerie boutique stores looking to sell their products on an online platform. Access to a global customer base looking for distinctive articles of lingerie.
4.2.1.1. Independent boutiques are offered an opportunity to compete in the online marketplace while still maintaining their brick-and-mortar stores and visual identity. allows these stores to boost their brand awareness. gives shoppers the ability to view and purchase clothing from a collection that has been refined by hundreds of different buyers, each with their own unique style and vision.
4.3. Luxury Multi brand retailers
5. Marketing Mix
5.1. Distribution
5.1.1. Ship within Europe
5.1.2. Aim to offer over 100 different premium and luxury lingerie brands were on the, ranging from heritage brands to emerging designers.
5.2. Product
5.2.1. Bra, panties, sets, bodysuits, hosiery
5.3. Promotion
5.3.1. Instagram, Facebook, High Fashion Magazines
5.4. Price
5.4.1. 60 - 800 EUR
6. Vision
6.1. To create a single operating system that could address the complex demands of consumers and lingerie luxury sellers, striving to become a luxury powerhouse
7. Problem
7.1. many high end lingerie boutique retailers don't have the reach or the resources to effectively manage an online store.
7.2. customers do not have full availability over the lingerie brands they love
8. Mission
8.1. Our mission is to be the global technology platform for luxury lingerie, connecting creators, curators and consumers.
9. Competitor analysis
9.1. online lingerie multi brand
9.1.1. Findingrosie, Journelle, Ouihours, Brigade Mondaine, Lingerie Francaise, Rigby Peller
9.2. online luxury multi brand stores
9.2.1. Net a Porter, Farfetch, Selfridges, Figleaves
9.3. online multi brand that offers lingerie too
9.3.1. Urban Outfitters, Asos, NAKD,
10. Aim and Objectives
10.1. Spread awareness of emerging lingerie brands
10.2. offer availability and versatility
10.3. offer an easy and experience driven customer journey
11. Revenues
11.1. margins of 15%-25% of the products onsite
11.1.1. pays merchants 30-40 days afterwards
11.1.1.1. benefits from negative working capital model