10.7 The Role of Technology in the PYP
by Erin Threlfall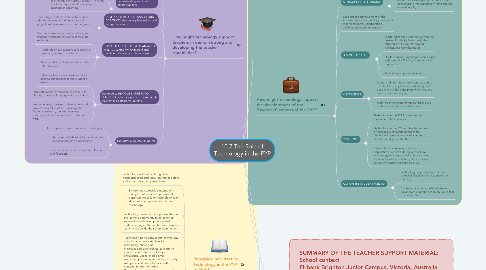 1. How might technology support the development of the Essential Elements of the PYP?
1.1. APPROACHES TO LEARNING
1.1.1. Technology has its own set of skills that need to be developed within the PYP, and connected in interdisciplinary ways into the units of inquiry.
1.2. Supports the development of the Approaches to Learning by providing a tool for research, collaboration, thinking, and communication.
1.3. LEARNER PROFILE:
1.3.1. Digital citizenship connects in with the Learner Profile by linking with the attributes of Caring, Principled, Thinker, and Communicator
1.3.2. Digital and non-digital tools can support attributes like Thinker, Communicator, Inquirer, etc.
1.3.3. Technology supports reflection.
1.4. KNOWLEDGE:
1.4.1. Digital and non-digital tools can be used to help build conceptual understanding and build into the Transdisciplinary themes, and helps to support inquiry.
1.4.2. Technology understandings can help build understanding of the central ideas.
1.5. CONCEPTS:
1.5.1. Technology in the PYP is a tool to help inquire into the concepts.
1.5.2. Technology in the PYP also has its own set of conceptual understandings to be developed over the course of a leaner's development within the PYP.
1.5.3. "technology" may refer to digital applications, but it could equally include technology relating to medicine, transport, food and textile production, electricity, and so on. (Principles into Practice p. 59)
1.6. ACTION and STUDENT AGENCY
1.6.1. Technology helps students take on personal inquiries and document their learning.
1.6.2. Students can connect with others to collaborate and take action on issues that matter to them.
2. How might technology support teachers in demonstrating and developing the teacher capabilities?
2.1. Helps teachers and students document and reflect on learning.
2.2. INQUIRY: undertake personal inquiry, reflection and action to inform their practice.
2.2.1. Helps to promote collaboration and connections to other teachers and learning communities
2.2.2. Technology can help provide access to research and open the door into other classrooms
2.2.3. Teachers can use tech tools to document their teaching and reflect on the effectiveness of lessons, while also analyzing student results to feedforward towards new learning.
2.3. FOCUSED ON CONCEPTUAL UNDERSTANDING: build/develop conceptual understanding within and across subjects
2.3.1. Technology provides opportunities for multimodality.
2.3.2. Technology can support Design Thinking, which can support interdisciplinary teaching and learning
2.4. DEVELOPED IN LOCAL AND GLOBAL CONTEXTS: design inquiries using local and global context
2.4.1. Technology tools can help us to connect with other schools and collaborate on projects with classrooms across the globe.
2.5. FOCUSED ON EFFECTIVE TEAMWORK AND COLLABORATION: build and maintain collaborative relationships
2.5.1. Teacher to teacher, school to school, and student to student can connect through tech tools.
2.5.2. Technology can support collaborative planning between teachers.
2.5.3. Social media can help us connect with other teachers
2.6. Designed to REMOVE BARRIERS TO LEARNING: foster supportive environments that remove barriers to learning
2.6.1. Helps teachers differentiate and tailor learning experiences to the student's needs.
2.6.2. support student innovation and creativity through a cycle of inquiry-action reflection
2.6.3. use technology to extend when, where and how learning takes place, including the flipped classroom, blended learning stations, and teacher feedback to student work.
2.7. INFORMED BY ASSESSMENT
2.7.1. Tech supports varied assessment strategies
2.7.2. Tech can provide tools for documenting and analyzing the assessments.
2.7.3. Tech provides a tool for student reflection and feedback,
3. Principles into Practice Technology in the PYP p. 48-61
3.1. Technology includes both digital and nondigital tools and resources that facilitate and expand learning possibilities.
3.2. Schools must provide students with multiple, authentic and purposeful opportunities to learn technology, learn about technology and learn through technology
3.3. Technology poses unique opportunities for the learning community to co-construct knowledge and develop conceptual understandings with members and experts within and outside the school community.
3.4. Technology, particularly digital technology, affords myriad opportunities for networking, sharing of initiatives and partnerships, to learn, to connect and to transcend subject knowledge. Digital media gives users the opportunity to interact, not only with peers and adults but also with content, in order to further their understandings. Text, images, videos and audio files are not only consumed and shared, but are also integrated and re-purposed (Palfrey and Gasser 2013) to create new knowledge and conceptual understandings. Through technology, students learn about multiple perspectives, the origins of a concept or even experience a concept through modelling, simulation or visualization technology—all forms of experiential learning (Kolb 1984). For example, students can experience the effect of a 6.5 Richter-scale earthquake through simulation at a local museum
3.5. The learning community supports students to be responsible and ethical digital citizen.
4. SUMMARY OF THE TEACHER SUPPORT MATERIAL: School context Firbank Brighton Junior Campus, Victoria, Australia In this teacher support material, Eleni Kyritsis of explores some of the key themes of technology learning in the PYP, and how these are brought to life in her school.