J.K Rowling
by Betrina Gue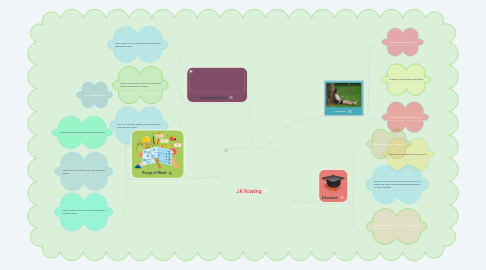 1. Childhood
1.1. Wrote her first novel at 11
1.2. Grew up "surrounded" by books
1.3. Wanted to be a writer early on
1.4. Wrote her first book at the age of 6
2. Education
2.1. Studied at Exeter University
2.2. Racked up a 50 Euro fine for the amount of books she went above and beyond reading for her class(es).
2.3. Studied and lived in Paris for a year as part of her course.
3. Important Dates
3.1. 1990: idea of Harry Potter conceived while waiting for train
3.2. 1998: "Harry Potter and the Sorcerer's Stone" published in the US
3.3. 2001: First Harry Potter book adaptation hits the big screen
4. Range of Work
4.1. "Harry Potter" series
4.2. "Fantastic Beasts and Where to Find Them"
4.3. "The Casual Vacancy", her first novel for adults
4.4. "Harry Potter and the Cursed Child Parts One and Two"